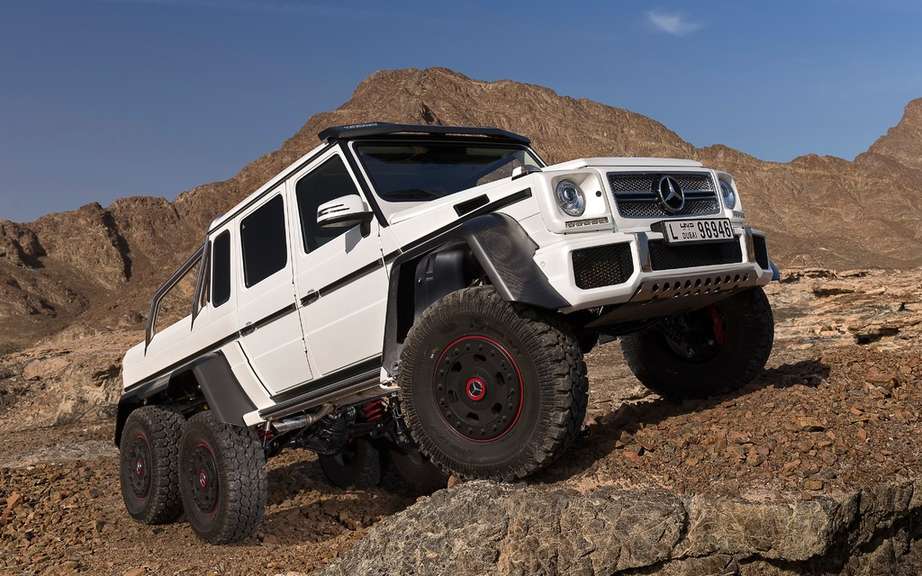 Mercedes-Benz G63 AMG 6x6 book has an American customer
The engineers of the AMG division of Mercedes-Benz had fun designing a huge SUV has six wheels whose destiny is with great ease through the desert regions, including the coast of the Persian Gulf. At AMG, we built a vehicle that is not afraid of anything and that commands respect.
Titanic dimensions, it measures:
5.87 meters long;
2.1 meters wide;
2.3 meters high.
Its ground clearance is 230 mm. This all-terrain vehicle presents an approach angle of 52?, And an angle of departure of 54?. Its weight is "only" 3.85 tonnes.
Six-wheel drive
Juggernaut moves with the help of its six-wheel drive, five interlocking bridges and tires 37 ". Regarding the latter, it is important to know they are a variable pressure.
AMG engine
Under the hood while height hides a powerful 5.5-liter biturbo V8 that develops 544 horsepower and 560 lb-ft. Everything is associated has a 7-G Tronic transmission.
Despite its exorbitant weight, it takes less than 7 seconds to 100 km / h while its maximum speed is 160 km / h.
The vehicle will be assembled in Austria, a factory Magna-Steyr, and an annual production should be established between 20 and 30 units it is expected.