Environment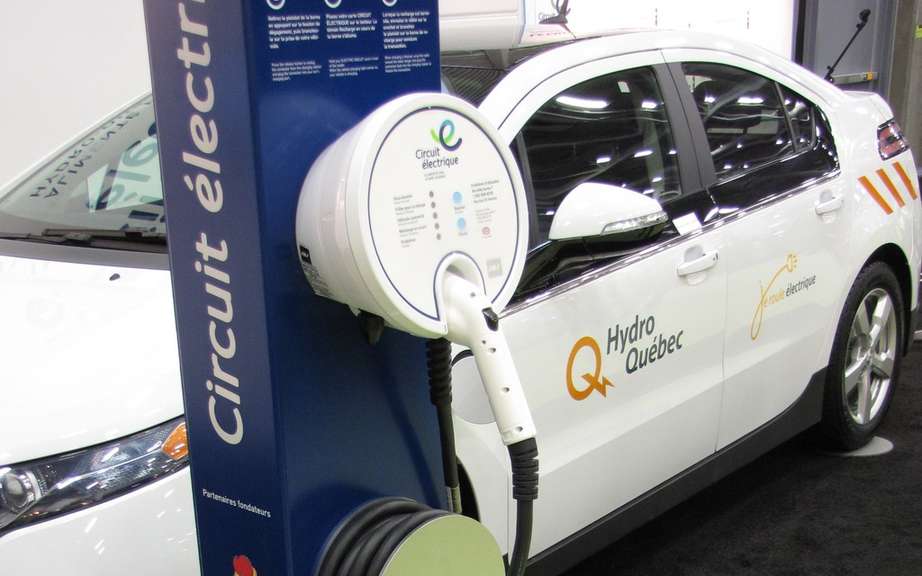 The electric circuit has moved Drummondville
On the occasion of the opening of the Salon International de l'Auto de Montreal (SIAM) which runs from 18 to 27 January 2013 at the Palais des congres de Montreal, Hydro-Quebec and founding partner of Circuit Electrical prepare an assessment of more positive the first nine months of operation of the first public charging network in Quebec and Canada. Recall that the founding partners of the electric circuit are the Rotisseries St-Hubert, RONA, METRO and the Metropolitan Transportation Agency (AMT). Over the past few months, 20 other partners, including the list appears below, were added and also offer this service to recharge.
With nearly 150 charging stations to be built in 34 cities spread in 10 regions of Quebec, the electric circuit allows EV drivers to drive with peace of mind and enjoy a unique service. The results demonstrate that users of public terminals recharge their vehicles on average for 1.8 hours while they go about their business with a partner. This gives them up to forty kilometers of additional autonomy. Nearly 60% of drivers were VE provides an electric circuit board, and use as needed in large areas of Montreal and Quebec, Laval, Monteregie, Estrie, Laurentides and Lanaudière, the regions of Ottawa, Bas-St-Laurent and Chaudière-Appalaches.
The electric circuit is inviting the public to visit its booth located on the 5th level of the Palais des Congres to learn more about public charging for electric vehicles.
In addition, it is also possible for visitors to the Auto Show to road tests of electric and hybrid vehicle batteries. These are organized by CAA Quebec in partnership with the ACIS and the electric circuit. The vehicles that will be available to the public for testing 30 minutes are electric Smart Fortwo, the Nissan Leaf, the Mitsubishi i-MiEV, Toyota Prius plug-in as well as electric Focus, C-MAX Energi and Ford Fusion Hybrid.
An expanding network in 2013
The expansion of the network will continue in order to provide greater geographical coverage and serve a larger number of EV drivers. To answer this future demand for public charging stations, Hydro-Quebec announced that it coordinates on behalf of the electric circuit, a second call for proposals.
The business model of the electrical circuit aroused great interest among some neighboring territories. Discussions are underway with the Vermont and Ontario. The electric circuit has also made the announcement of a first deployment in the region of Gatineau in 2013. Mention also that the electric circuit this year ordinate the installation of charging stations located in collaboration with the City of Montreal.
"We are pleased that nearly 60% of quebecois EV drivers have provides a map of the electric circuit, has said Pierre-Luc Desgagne, Senior Manager - Strategic Planning Hydro-Quebec, on behalf of the electric circuit. Circuit plays his role very effectively as it allows EV owners to benefit from extra services charging a uniform and competitive price. We also invite visitors to try one of the models of electric or hybrid vehicles rechargeable available for test drive at Auto Show. It may well be familiar not only with the vehicles, but also charging remains a simple and easy operation. "
Partners electrical circuit
The founding partners are the electric circuit Rotisseries St-Hubert, RONA, METRO, the Metropolitan Transportation Agency (AMT) and Hydro-Quebec. Since the inauguration of electric circuit 20 private and institutional partners have joined the network of public charging. These are:
Airports in Montreal
Borough of St Lawrence
Auberge Internationale Temiscouata
CAA Quebec
Cegep de Sherbrooke
Centre hospitalier universitaire de Sherbrooke
Health center and social services university Institute of Geriatrics of Sherbrooke
Commission scolaire de la Region de Sherbrooke
Discount Car Rental
First Capital Realty
Fairmont Hotels
Sepaq
Place des Arts
University of Sherbrooke
Bishop's University
Joliette
Longueuil
City of Montreal
Town of Riviere-Rouge
Sherbrooke
The electric circuit represents a major step in the deployment of the charging infrastructure needed to support the arrival of electric vehicles and rechargeable Quebec. Much needs recharging EV owners being filled at home or at work, public charging infrastructure offer these motorists the opportunity to refuel en route when necessary.
The website is updated as and as new terminals are brought into service or deployed.