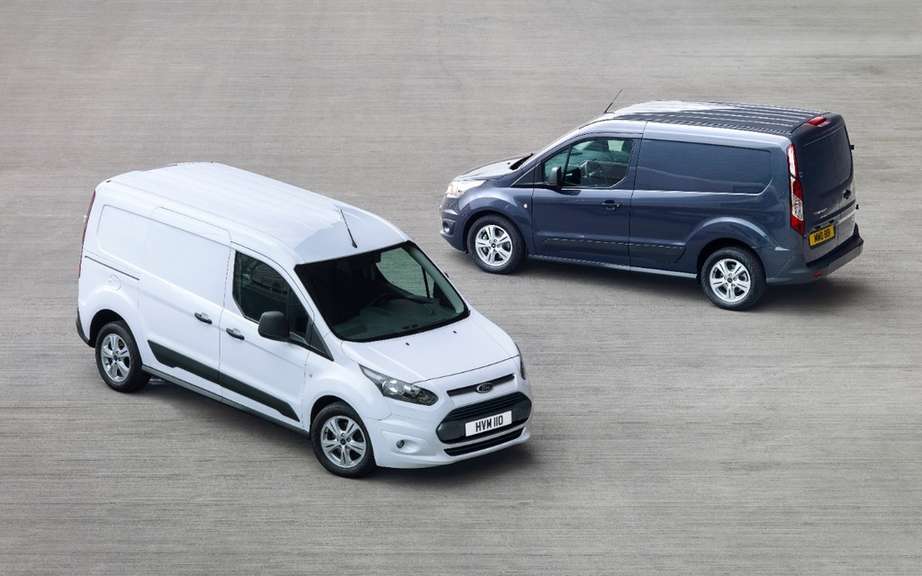 Ford Transit Connect elected "Van of the Year 2014"
Ford, one of the largest producers of commercial vehicles in the world, recently unveiled his successors in the categories full-size vans and minivans. They are amazing ... not dare say! These vehicles represent the future, according to Ford, and will be marketed in no less than 116 steps scattered across six continents.
The new generation of full-size van, the Transit Van, sans gene replaces the E series, a successful sales for over 33 years while the van, already presented in Los Angeles, is the next generation of the Transit Connect.
Transit Van
Ford believes that the new generation Transit Van will never change the market of traditional van, has presented strong arguments. Built on the new global platform propulsion, Transit Van decline is not less (attention brace yourself) three box lengths, two wheelbases, three ride heights and loading versions, passengers and finally chassis has modular cabin. In addition, each version is available in XL or XLT DELIVERED. The base engine is the 3.7-liter V6 (302 hp and estimated at 278 lb-ft). There are two options, the 3.5-liter V6 EcoBoost (estimated at 365 hp and 420 lb-ft) and a new five-cylinder turbodiesel Power Stroke 3.2-liter (197 hp and 347 lb-ft European version).
Unofficially, the numbers of urban / extra-urban consumption is 13.8 / 10.2 l/100 km (17/23 mpg) for the 3.7 and 14.7 / 10.7 l/100 km (16 / 22 mpg) for the EcoBoost versions. Official scores will be communicated to the course of the year 2013. Only a six-speed transmission is available.
Plant Kansas City, Missouri is the site chosen for North American production.
Fuel saving and versatile interior
Compared to the E series it replaces, Ford announced a reduction in consumption up to 25% and an upper loading capacity of 140 kg (300 lb), non-negligible improvements in this niche. The new buzzword is "volume loading" with capacities ranging from 7,100 to nearly 14,200 liters (250 to 500 cubic feet) in the extensions models. This is about 80% more than the current E series, according to representatives. Raised models, with more than 2 m (81.5 in.) ceiling, are particularly well adapted to mobile while the passenger model can seat up to 15 people workshops.
Driving qualities
Ford has not neglected the operator with an emphasis on handling, steering and handling characteristics. At the front, the Transit uses a rack and pinion steering and struts with stabilizer bar mounted on a frame. The rigid rear axle uses leaf springs has a progressive rate dampers and gas. Disc brakes on all four wheels as well as the stability of control system with Roll Stability AdanceTrac arrive home.
Interior appears more luxurious than usual delivery vans and the dashboard is complete. A 6.5-inch touch screen with GPS and SYNC with MyFord Touch are available. The key MyKey system, allowing pre-programmed maximum speed and audio volume, is original and management tool and fleet monitoring, the Crew Chief In-vehicle monitoring, is also offered. This device allows you to monitor, in real time, parameters such as the geographical location of the vehicle, speed and extended periods of arrest.
Transit Connect Transit Connect Wagon, new generation
Deja? you say, surprised. Well, this van rather successful was born in 2002 although its import in North America dates only from 2010. Ten years is a long time and the advent of a new platform Escape / Focus was an opportunity REVEE to replace the current Transit Connect.
Made from a compact platform Transit Connect drives like a car but becomes a real mule when necessary: ​​short or long wheelbase version and XL or XLT, the new van can carry up to 730 kg (1600 lb) and tow 910 kg (2,000 lb) depending on version. The load volume ranges from 560 liters (19.8 cu ft) behind the third row of seats of the wagon version was 3,700 liters (130 cu ft) in the retail version.
The new platform offers up to three rows of seats, sliding side doors and a reduced height of about 15 cm (6 in.) to settle the problem of access to standards garages previous versions.
Mechanical frugal
The Transit Connect, traction, offers a choice of two four-cylinder engines: a 2.5-liter EcoBoost original or optional 1.6-liter. The estimated consumption of the latter is about 7.8 l/100 km or less (30 mpg or more) extra-urban driving. Official data of power, torque and consumption have not yet been disclosed. Only a six-speed automatic transmission is shown in the catalog. The electric power steering, the system for monitoring tire pressure and disc brakes in the front part of the basic equipment.
Interior configurable
Offers several configurations of up to seven seats (Transit Connect Wagon) Transit Connect provides a dashboard and inspired driving position of the car. The RearView Monitor, touch screen 6.5-inch with navigation system and SYNC with MyFord Touch are available. The Taxi option remains in the catalog and Ford says it is very popular in New York and Los Angeles.
Safety and convenience
All Transit Connect vans are equipped with airbags in the front and curtain airbags for the second and third rows of seats. The windshield has electric defrost the windshield washer nozzles heaters, heated power mirrors and wipers a rain sensor are proposed order. The MyKey programmable key is original and MyFord Touch and Crew Chief In-vehicle monitoring systems are also available.
Family luxury
Transit Connect Wagon is a rather high-end niche by adding a Titanium versions. This version is available with two lateral sliding doors, five or seven seats, depending on the selected wheelbase and luxurious options such as sunroof, electric windows a command to the front and side doors and a leather interior. The seats of the second and third rows fold flat and those of the third row slide individually.
Pioneering ideas
With Transit Van monohulls, it is clear that Ford is looking strongly shake the traditional market vans., He hopes to revolutionize the traditional U.S. market by providing more volume and loading capacity, better fuel economy and charges lowest operating. It will also convince the buyer of the benefits of a V6 or V8 diesel compared to traditional or V10.
As the popular Transit Connect, we can only rejoice that Ford defer choice of two wheelbases, more space and adding luxurious options.
The manufacturer has not disclosed the price, merely mentioning that the Transit and Transit Connect will arrive at the end of 2013.
View the gallery