New models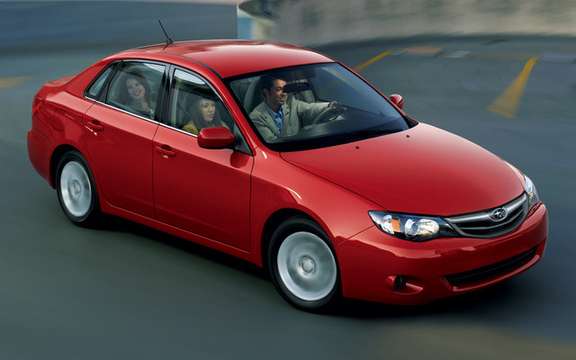 Subaru Canada unveils prices for Impreza 2011 range
Subaru Canada we present new features and new options packages offered on its models Impreza 2.5 i 2011. Always offered in sedan and five-door hatchback, the new Subaru Impreza cars remain a character from the many sporting successes by the manufacturer rallies everywhere across the planet.
As its name suggests, the Subaru Impreza 2.5 i always trust has its four-cylinder Boxer engine indestructible 2.5 liter with an output of 170 horsepower and torque which relies on its 170 lb-ft. The five-speed manual gearbox has is equipped with a backstop system which prevents the car back when the latter is in a steep slope. An automatic transmission has four full reports everything.
Although these different combinations are recognized for their high efficiency, it is time that Subaru and it was like many other manufacturers could offer a manual transmission or six-speed automatic with a minimum of five reports.
The new 2011 Subaru Impreza 2.5 i cars are all integral cog.
Here is the statement issued by subaru canada
---------------------------------------------------------
Subaru Impreza 2.5i 2011: new features and options to enhance performance inherited Rally
TORONTO, July 16. / CNW / - The Impreza 2.5i 2011 is a vehicle for affordable performance, acquires power and maneuverability of a tried and true rally, as well as the safety and plumb with the legendary symmetrical AWD system has taken Subaru constant. The Impreza 2.5i 2011 decline in four and five door versions, and offers a choice of five-speed manual transmission with Hill Holder system or an automatic transmission electronic direct control four reports (4EAT) with manual mode (Sequential passages).
Novelty in the cuvee 2011, a series of improvements have been made to the component of performance, safety and comfort in order to raise the level of equipment already remarkable Impreza:
    -   Every 2011 Impreza is equipped with new headrest largest to
        rear seats to better protect the occupants.
    -   A new group of 2.5i Convenience options include wheels
        16-inch aluminum alloy; a new AM / FM channel
        ADVANCED with CD/MP3/WMA player and four speakers; two
        Top tweeters in the doors; telephony technology
        mobile hands-free Bluetooth (R) voice-activated; orders
        channel audio and hands-free Bluetooth system integrated into
        driving; audio Bluetooth streaming; multimedia adapter
        for iPod and USB audio integration; and steering wheel and selector lever
        leather sheaths.
    -   The model with Sport has been revised and includes henceforth the
        new chain AM / FM ADVANCED with CD/MP3/WMA player
        four speakers, two tweeter speakers, technology
        telephony mobile hands-free Bluetooth (R) with integrated controls
        driving; audio Bluetooth streaming and adapter
        multimedia audio for iPod and USB integration.
    -   The model with Limited Group also been revised and includes
        new channel audio, Bluetooth connectivity and controls
        steering wheel INDICATED ABOVE in convenience and groups
        Sport.
In its four-door version and in its five-door version, the Impreza 2.5i is equipped with numerous standard equipment. The list includes such an anti-lock braking system ABS has four sensors and four circuits four wheels, with electronic force distribution (EBD) and Emergency Brake Assist; the rear disc brakes; VDC stability control (Electronic Stability Control and traction control); air conditioning with air filtration; a keyless entry system; of Heated door mirrors folding, has electric adjustment; the tinted windows and windshield with UV protection; tilt steering wheel with integrated controls cruise speed; of powered windows, and the list continues. (To see all the specifications, please visit www.subaru.ca.)
Space and comfort in perfect harmony
At the heart of every Impreza, the emphasis is on comfort and habitability. The design of the double-arch dashboard includes aluminum inserts aspect that visually align the central block. The shape of the center console enhances the feeling of space, enhances by door panels carved and degagement upper level of the head. In each porter, a mold cavity can accommodate a bottle of 750 ml (24 oz) and small items. Large door openings make it easy to access while at the rear, the opening angle 75 degrees doors makes the most convenient access to the rear seat for passengers and installation of child seats .
The double wishbone rear suspension Impreza provides a refined handling and good soundproofing, without encroaching too in the load compartment. On all Impreza models, the rear seat 60/40 split and fold flat to further enhances the convenience and loading capacity.
The Impreza 2.5i 2011 is pre-wired for SIRIUS satellite radio, while the Sport and Limited both include a three-month trial subscription. On the Impreza equipped with automatic transmission optional Subaru planned a wiring for the installation of a remote starter (option to install at the dealership). The lighthouses are part of sprinkler use amenities at Subaru and can contribute to the longevity of the battery in addition to enhance the active safety of the vehicle by making the vehicle more visible.
Power, for work and leisure
The Impreza 2.5i is powered by a SUBARU BOXER 2.5-liter 4-cylinder and a SOHC 16-valve with electronic throttle control system and intelligent variable valve timing. This powerful engine DEPLOYS 170 horsepower at 6 000 r / min and 170 lb-ft of torque at 4 400 rev / min, which generates plenty of power for overtaking or commitment on the highway. It is also consistent with the emission standards LEV2 (Low Emission Vehicle).
This engine is paired to a manual transmission has five fully synchronized reports. All manual transmission models are also equipped with a series of anti-kickback device, which helps prevent the vehicle from rolling back when starting on an incline.
When power is allied to performance
Entire Impreza range of team dynamics control (VDC) and control system of traction, two technologies that help maintain directional stability when road conditions are difficult.
When electronic stability program only detects a situation of under-or oversteer, it controls the AWD system to modulate the torque split between the front and rear in order to equilibrate the tensile force available and the movement pulse forward, instead of simply applying the brakes to slow the vehicle. If the total traction available is not sufficient to ensure stability, the control system of traction applies a braking pulse to individual wheels if needed and reduces engine power to slow the momentum and help regain control.
Designed to protect its occupants
All Impreza are built from a frame structure reinforced advanced open-arch Subaru with deformation zones front and rear. For added protection, the Impreza anywhere belt has three anchor points to all seats (height adjustable front seat belt), active head restraints in the front and front seat belts with pretensioners and electronic tripping and load limiters.
The system evolved airbags (SRS) Subaru shall ensure that the front airbag on the side of the driver unfolds depending on the proximity of the seat and the steering wheel. For its part, the front side airbag front passenger unfolds based on information collected by a sensor, which determines whether the seat is occupied or not, and if necessary, which evaluates the weight of the occupant (if is a child or an adult). The system also includes a witness airbag dashboard.
The Impreza also includes side curtain airbags that protect front and rear occupants in the event of lateral impact. Both front seats are equipped with front airbags that protect the torso further event of a lateral impact; they are mounted in the same seats, they are always well positioned, regardless of the position of the seat.
The IIHS awarded the Impreza mention of "Best Security Choice" in the category of compact cars as a result of the good results obtained in the tests deportee frontal, lateral and rear as well as new roof strength test . The Impreza is also endowed with a series of electronic stability program (ESC), a requirement of all designated for IIHS Top Safety Pick vehicles.
Two types of symmetric integral traction
The heart of each system is the Subaru symmetrical full-time AWD taken constant. If manufacturers are increasingly numerous to offer AWD, Subaru has long been the undisputed master of this technology security, since the start of the first four-wheel drive cars there nearly forty years and advent of permanent automatic integral traction in 1987. symmetrical full traction took constant standard on all Subaru vehicles sold in Canada.
The symmetrical AWD system has taken constant combines a Subaru BOXER engine, permanent and well balanced wheel torque distribution and a low center of gravity and a large suspension travel, which provide exceptional precision maneuverability.
The Impreza models equipped with the manual transmission has five reports utilize a locking center differential has viscous coupling which proportions the power 50/50 between the front and rear.
Impreza models with the automatic transmission four-speed electronic control with a manual clutch uses a continuously variable transfer distribution control electronically to actively manage the distribution of torque based on throttle position and adherence available . This active system automatically balance the torque to optimize traction even when road conditions are poor. The control system "intelligent" increases the stability of the car closely monitoring the speed of each wheel and the position of the transmission. This logic control also improves braking and cornering in greenhouses can offer a more neutral handling, less prone to understeer and oversteer.
The direct control automatic transmission with manual mode has three different modes to shift gears: the Economy mode (default to optimize energy efficiency in automatic passages), the Sport mode (provides a more dynamic scheme of automatic shifting, ideal to enter the highway or exceed when traffic is heavy) and manual mode (sequential manual shift mode for passionate driving).
View the gallery