New models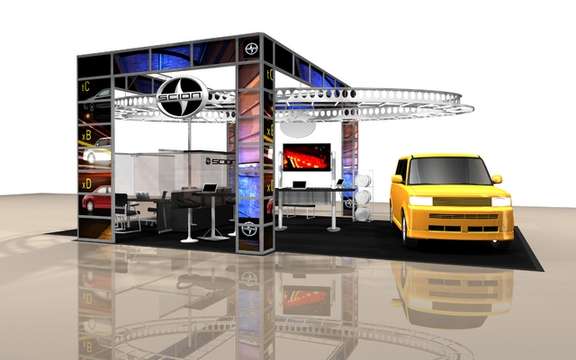 Scion Canada: A showroom inedite
SCION Canada today announced the retail price suggested by the manufacturer (MSRP) for its range of cars focused on performance and style - and with prices starting well below the price of comparable competitor models.
"Motorists SCION want vehicles that are very well equipped while being aesthetic, effective and efficient, at an affordable price giving them enough money to buy accessories and personalize their vehicle in the image of their lifestyle" stated Larry Hutchinson, Director of Scion in Canada. "The Scion vehicles enjoy a high level of standard equipment at a competitive price - offering everything looking SCION drivers, including the best safety features of the category. "
The Scion vehicles include many more standard features than competing vehicles in the segment, including air conditioning, ice / locks / mirrors assist, audio system AM / FM / CP 6 Pioneer speakers, MP3/iPod taken, seats sports and a host of safety features. From these fully equipped vehicles, buyers are free to personalize their car the image of their personal style with more than 200 pieces and accessories, including the full range of equipment performance Toyota Racing Development (TRD).
The launch of the brand, Canadians can choose between three models richly teams:
    * In addition to its seductive style, the 2011 Scion tC sport coupe offers a sporty driving, thanks to a four-cylinder 2.5-liter paired to a six-speed transmission. The tC starts an MSRP of $ 20,850.
    * Scion xB compact 2011 is the original urban utility vehicle that offers ample space for cargo and passengers, a professional audio system quality and more. The xB starts an MSRP of $ 18,270.
    * Scion xD 5-door hatchback 2011 is a roomy subcompact that goes against a current of current trends with its style and superior performance. XD began an MSRP of $ 17,200.
Scion Canada also announced the launch of a reconstructed with engaging content and advanced functionalities website. September 8, 2010 *, Scionnation.ca offer a revolutionary online experience or style ferus motorists can use rendered 3D image to configure and calculate the price of their models Scion. The buyer Scion lives online and makes its purchasing decisions online. Scionnation.ca offer consumers an online platform allowing them to enter more easily than ever has a wealth of information:
    * An accessory configurator to allow you to customize and explore a Scion from all angles in 3D
    * A function configuration / price that allows users to configure their preferences according Scion and personality
    * Pages lifestyle with news and multimedia content sponsorship of events by Scion
    * An interactive magazine devoted to the Scion culture in Canada
    * Forms to apply for credit online
    * A dealer locator to help you find the establishment Scion closest to you
This month, Scion opens 45 stores "store within a store" at Toyota dealers in Montreal, Toronto and Vancouver. Scion dealers upset the traditional experience of the showroom with an emphasis on customization and customer experience, all seconded by Toyota excellence in terms of service and support.