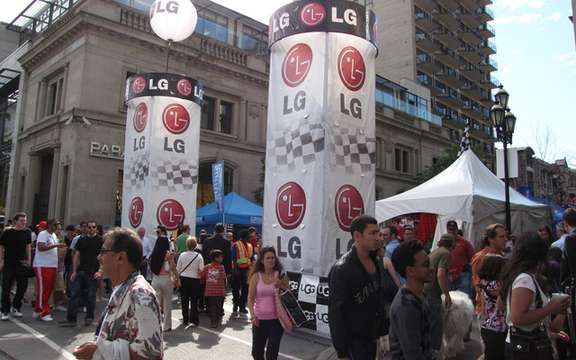 Grand Prix 2010: The very festive Crescent Street
In 2008, I went to the day "Open House" Grand Prix du Canada to share with you this event more interesting.
Unfortunately, the year passes the Grand Prix has let us down but we come back this year more in health than ever. The Octane Racing Group, promoter of the new Grand Prix of Canada announces the return of the day "Open House".
19 races that make up the 2010 season of Formula 1 competitions, only the leaders of the Australian Grand prize and Canada allow the general public to have access to the paddock for free.
In Montreal, this activity takes place in recent years, on Thursday morning and held between 9 am and 12 pm. It is estimated that between 8,000 and 10,000 visitors will take advantage of this opportunity.
But this morning despite the weather, I went to the website of Circuit Gilles Villeneuve to take advantage of this event allows us among others to admire some race cars, to see the different facilities of stables or mechanics s 'busy around the Formula 1 cars. Here and there we see more fins willing to public view, of the same exercises that stops the wells. The visit also allowed us to see the centers telemetry several stables.
Visitors who obtained the Official Guide Grand Prize could go to autograph their book by one of the pilots present.
Throughout the course, we find promotional booths, or we are offered many items for sale, such as vests, jackets, caps, effigies, miniature cars and other objects relating to Formula 1.
I remind you that the various activities surrounding the Grand Prix of Canada Commencement today and they will continue throughout the weekend, especially around Crescent Street.