First contacts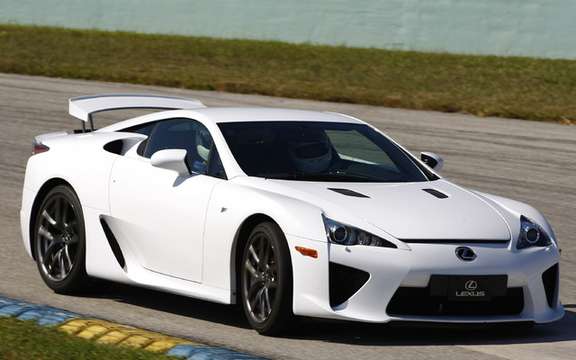 2011 Lexus LFA, an exclusive essay on the Homestead Speedway
Toyota has announced that his car Lexus LFA would be produced in only 500 units, here that he has to face quite a dilemma, that of having to meet a far more numerous than planned clientele.
LFA sports car sales have started in October and in the framework of its unveiling at the auto show in Tokyo. And they will end next March in Geneva.
Once the main interested known which have a significant amount disbursed to reserve their copy, this high-performance cutting, giant Japanese leaders will proceed with the delivery of only 500 units of the Lexus LFA. A daunting task that awaits them and make much discontented.
At least, we decided to increase the volume of production of this model in order to better respond to all requests. Or, take the decision to produce a roadster version of the Lexus LFA, a plan to satisfy the greatest number of clients ...
Lexus LFA comes to skirmish with the Italian exotic. To do this, it hides under its hood along a thundering 4.8-liter V10 that develops 560 horsepower and whose speed can reach 325 km / h.
The REQUIRED disbursed to wear purchaser of this exceptional cutting exceed 000 375. Or if you prefer, equivalent to $ 560 000 Canadian dollars ...
Recall that all these commands have been made in full period of global economic crisis.