New models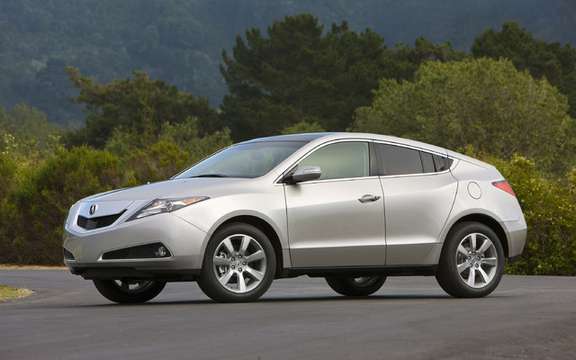 Acura Announces Pricing of its MDX and ZDX models assembled in Canada
New models
The new Acura ZDX with panoramic views
The associates of Honda of Canada Mfg.. (HCM) in Alliston, Ontario, today starts the serial production of the new Acura ZDX 2010. The ZDX a "four-door sport coupe", stands out for its remarkable style, exceptional performance and advanced technology.
"We are taking today, HCM, another remarkable step: the launch of our sixth exclusive model, the ZDX," stated Hiroshi Sasamoto, president of Honda of Canada Mfg., during a ceremony organized at the factory to celebrate. the event and that the associated HCM and officers of Honda Canada Inc. attended.
"It is an honor to have been selected HCM to build the Acura ZDX. Extremely proud we are of the competence, work and dedication of our partners, who have enabled us to obtain the production of this important new vehicle. "
The ZDX, manufactured in Canada, will be offered in two versions: ZDX ZDX and technology together. Its generous equipment includes a 3.5-liter V6 and 300 hp couple has a 6-speed automatic transmission, panoramic glass roof with retractable sunshades, an indoor picnic in hand leather connective HandsFreeLink (TM) Bluetooth (R ), an electric tailgate, a storage compartment with removable side panels accept up to four golf bags and a powerful audio system with CD player, AM / FM / XM and USB audio input with iPod Radio ( MD) integrated.
DATA OF HONDA CANADA MFG. (HCM)
-  Honda of Canada Mfg.. (HCM) produces about 390,000 vehicles per year and employs approximately 4,300 associates.
-  HCM product cuts and Honda Civic sedans and the CSX models, the new MDX and Acura ZDX.
-  HCM has built its 5 millionth vehicle in April 2009.
-  Nearly half (48%) of Honda and Acura vehicles sold in Canada in 2008 were produced at HCM.
-  HCM in 2007 reached its total elimination environmental objective of waste to landfill.
-  Honda investment in its Canadian activities are superior to $ 2.6 billion.
-  Each year, HCM bought for nearly $ 1.4 billion in products from Canadian suppliers.
-  HCM buys parts from 268 North American suppliers; among them, 56 (21%) of original equipment manufacturers in Ontario.
-  Grace has its presses, HCM produces premises used locally and in other North-American Honda plants.
-  Honda has increased its contribution to the Canadian economy with the opening Alliston, in September 2008, its third plant, which annually produces 200,000 engines fuel efficient.