Tests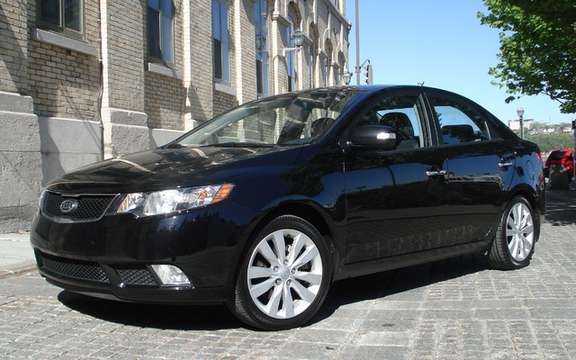 Kia Forte SX sedan 2010: Highly interesting!
Kia Spectra finally gets its reverence and will be replaced by the end of April, a new range of compact cars category, CALLED Forte. This newcomer is first offered classic sedan version and will be followed by a nice cut, the Kia Forte Koup.
The Kia Forte sedan is offered in three distinct declinations, namely the LX version called entry-level available from a $ 15,695, the EX version should be the most in-demand available from $ 17,995 and finalemnt SX version that the price is $ 20,995. remember that the Forte LX and EX models have four-cylinder engine 2.0-liter 150 horsepower, while the SX model engine enjoys a cylinder of 2 4 liters and an output of 173 horsepower.
For more information about the new Kia Forte, here is an excerpt from the press release issued by Kia Canada.
-----------------------------------------------------------------------------------------------------
KIA Canada announces pricing and specifications of its new 2010 Forte
MISSISSAUGA, ON, April 15 / CNW / - Shortly after the announcement of record sales in March, Kia Canada Inc. continues its momentum by spotlighting the prices and specifications of its new 2010 Forte Concue. under the leadership of famous designer Peter Schreyer, this compact sedan represents the first step into the fascinating Evolution of brand Kia.            
"With its flowing lines and striking design, the Forte sedan is a shining example of the new face KIA is being adopted in the field of design," explains Maria Soklis, senior director of operations KIA Canada. "The Forte also represents the commitment by Kia, which is to design stylish vehicles, providing customers with excellent quality and a quality / price ratio uneven." 2010 KIA Forte will go on sale from the end of April 2009. Forte LX will be proposed has a base price of $ 15,695, while the Forte EX will be available for $ 17,995. Forte SX equipped with the 2.4L Kia starts $ 20,995.
The style movement
Thanks to its sporting and elegant style, the new Forte itself as a competitor in the segment. Its bold look, its pruned lines has the sickle, its flagship extensions to the rear and profile elance confer him a confident elegance, both on the highway at a standstill. Proposed in three versions (LX, EX and SX), Forte is distinguished and sophisticated. The athletic side of the sport version (SX) is accentuated by the alloy wheels of 17 inches, the P215/45R17 tires and sport suspension.
A smooth and comfortable ride
Thanks to its generous dimensions - a wheelbase of 2,650 mm, an overall length of 4,530 mm, an overall width of 1,775 mm and an overall height of 1460 mm - Forte is one of the cars most spacious in its class and can comfortably accommodate up to five passengers. Body, conceived by Kia, reached a level of torsional rigidity pupil, promoting maneuverability, handling and quality of conduct, which exceed those of its competitors. The specially tuned suspension adjusts perfectly to road imperfections, to provide responsive handling and excellent roadholding when cornering. Finally, the Forte is endowed numerous refinements increase comfort, while reducing the perceived noise and vibration felt in the cabin.            
Built on a monocoque frame has front wheel drive, Forte has an independent suspension uses MacPherson struts and a stabilizer bar at the front. At the rear, there is a torsion beam suspension, struts and coil springs. These items can achieve the optimal balance between maneuverability and comfort. The rack and pinion steering, assisted by the regime of the engine, putting the finishing touches to this precise maneuverability by adjusting assistance to road conditions. Decidedly sporty in mind, the SX has a sport suspension which strengthens direction and makes more nervous, which promotes a more exciting driving. The SX model is also equipped with front brakes larger and more effective.
An elegant and practical interior
The volume of the interior of the Forte measuring 2,740 liters a head space of category (1). The driver and passengers enjoy a headroom of 1015 mm and legroom of 1100 mm at the front and a headroom of 995 mm and legroom 890 mm at the rear. Chest, one of the most spacious in this category may contain up to 415 liters and accommodate all the luggage of a trip this weekend.            
Not only spacious, Forte pampers its occupants with its well equipped interior. The cloth seats are comfortable, and the driver can enjoy luxurious details, serial, all vehicles, such as the driver's seat is 6-way adjustable, tilt steering column, Bluetooth hands-free functionality has voice commands, commands to the radio on the steering wheel, wipers and heated mirrors has electric controls, electric lock, and two sockets 12 volt in the center console.            
The EX models push the luxury even further with features, serial, such as heated seats front, teledeverrouilage, air conditioning, cruise control, defroster wiper, tilt steering column, the mirror has integrated flashing and alloy wheels of 16 inches. SX models offer, serial, electric sunroof, leather upholstery, steering wheel and gear shift knob leather sheaths, alloy wheels of 17 inches, the automatic controller of the indoor temperature, the panel edge Supervision, trip computer, fog lights, alloy pedals and metallic interior trim.
Nerve performance
The Forte LX and EX are powered by a 2.0-liter engine has 4 cylinders DOHC, producing 150 horsepower and a torque of 144 lb-ft. This engine CVVT (variable valve timing) and electronic fuel injection improves performance and fuel economy. SX, as it has, is powered by a 2.4-liter engine has 4 cylinders in line and CVVT, which produces 173 horsepower, superior to the most powerful versions of the Toyota Corolla (1) or even of . Mazda3 2010 Two transmission choices are available for the 2010 Forte: a 5 speed manual gearbox, serial or automatic Steptronic box electronically controlled 4-speed (optional on LX and EX models). The SX model is equipped as standard with a manual 6-speed transmission and optional automatic Steptronic 5 speed box.
A powerful music
All models are equipped Forte, serial, an AM/FM/CD/MP3 stereo system (which can be controlled through the steering wheel controls), an auxiliary audio jack and a USB socket, for connecting MP3 player. The Forte models are equipped with Bluetooth (R), which allows hands-free use of compatible cell phones. For true audiophiles, the EX and SX models add six surround speakers, while SX models are equipped with SIRIUS Satellite Radio with three trial months.
Security serial
With all models are equipped with facilities of leading standard category, such as restraints heads before a whiplash, two front airbags, two lateral airbags, two lateral airbags curtain and anti-lock brakes (ABS ) has 4 wheel disc. The Forte EX and SX models add electronic stability control and traction control.
A guarantee in mind industry
Like all KIA models, Forte is covered by a comprehensive warranty program, providing unsurpassed protection for the consumer. This includes a limited powertrain warranty of 5 years or 100,000 km, limited basic warranty of 5 years/100, 000 km anti-perforation warranty 5 years unlimited mileage and roadside assistance during the 5 years or 100,000 km.
A range of premium vehicles
Forte joined the lineup of vehicles which includes premiums Rio and Spectra, which are to be appointed from the list of "most fuel-efficient cars for the price" by Forbes.com. In addition, the Spectra was chosen as one of the "10 Best Cars for under $ 15,000" by the editors of MSN Autos United States. The all-new 2010 Soul, which reached its first month of sales, a record number of 708 units sold, has also received the design award "Red Dot". The Soul is the first Korean car has won the international design awards.
(1) Based on the information available on models 2009.
(2) Customers must renew SIRIUS subscription after the trial period if they wish to keep the service.
View the gallery