Hybrid vehicles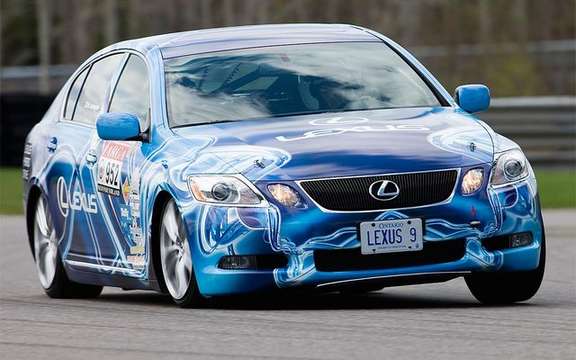 Lexus Targa Newfoundland 2008, hybrid racing car is back
During his second participation in a road race the most difficult in the world, the Lexus GS 450h improves its ranking, proving once again that the Lexus hybrid system is capable of high performance            
For the second consecutive year, the team Team Lexus proves that its hybrid technology is the height of extreme rally racing finishing sixth at TARGA Newfoundland 2008 on a run of 2 200 km, which was completed this week weekend. This result represents a progress report by the 18th place achieved by the GS 450h hybrid luxury sedan Lexus specially equipped for the occasion at the same event in 2007.            
"This is the second TARGA very well pass for our team and we got a great result," stated the driver Marc Lachapelle after his second participation at the wheel of the GS 450h. Noting that he had crossed the line of arrival to the dimensions of his co-driver Alan Ockwell in absolute silence, rolling electric only mode, Lachapelle added: "For us, it was proof that you can roll fort for six days, and cross the finish line in respecting the environment in a modern car. "            
"On behalf of Lexus of Canada, I would like to thank Mark, Alan and technicians for proves, once again, the Lexus hybrid system offers many advantages over conventional cars. This superiority is particularly evident in the extreme driving conditions that characterize road TARGA Newfoundland ", commented Tony Wearing, Managing Director of Lexus in Canada. "For the second consecutive year, the GS 450h is measured best cars of other manufacturers and international drivers, and once again demonstrated in front of a large audience of passionate motorized sports as the only line of hybrid vehicle luxury world is in a category apart. "            
The TARGA Newfoundland 2008 - the seventh annual edition of this event worldwide reputation - Shoot drivers and vehicles to their limits during an accident six days journey 2 200 km over the central and eastern parts of the island. As in previous years, the course includes contested stages on public roads or drivers must comply with the rules of the road, and several sections of closed circuit speed (representing about 20 percent of the ordeal), or pilot are free to push their mechanical thoroughly. Every evening, the Lexus GS 450h joined the other competitors to be presented to rally fans in the region.