Montreal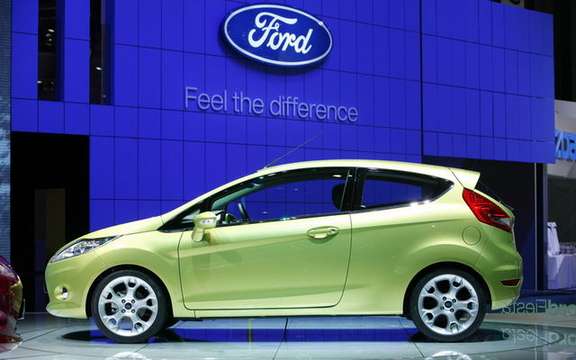 Ford Fiesta - End of a dream, the beginning of a reality
The auto manufacturer Ford has just announced that it will invest a whopping $ 2.4 billion (U.S.) in Mexican soil and in partnership with the OEM Getrag that his advert investment of about 600,000 dollars (U.S.), hence the overall figure of 3 billion ad.
This is the crucial decision for the manufacturer and it has like many others, and especially design to offer in the shortest possible time, an even more compact ranges of products and especially less energy wasters .
This decision by senior management and Ford announced by its general director Alan Mulally is a not cold shower, but rather cold for workers North Americans (USA + Canada) Ford who continue to see their confreres lose their employment in recent years, losses that are now becoming a creation of 4,500 jobs in Mexican soil. In addition, they represent a hand d'oeuvres relatively cheap, compared to costs incurred by Americans and Canadians workers, in addition to offering a quality in their work that has proved its worth.
After the Ford Escort which was the first car conceived a plan to offer on the global chessboard car, voila Ford recurrence in unveiling its new Fiesta model to be offered everywhere across the planet. Note that we use the platform Mazda2 for its development. Although the name Fiesta is gone in America, it remains to catalog in most Europeans countries whose popularity remains unwavering. Note that the Fiesta model of the era was a small economic car, while the Fiesta model which will be available in us, 2010 will be rather subcompact category. It will therefore be the war to the popular Toyota Yaris sedan, Nissan Versa, Dodge Caliber, Suzuki SX4 and others ...
The Ford Fiesta will be available in first floor Europeen, is presented in two versions type hatchback three or five doors. Subcompact category, it presents a figure with flowing lines and very very pretty, the trapezoidal grille sulfur will impress in more than one.
In Europe, drivers have a choice of four petrol and two diesel. For us, it should be offered with four-cylinder engine 1.6-liter Duratec Ti-VCT 115-horsepower system with variable valve timing. Ultra sports version RS 200 horsepower, and is currently developing is no doubt that the latter will be the basis in the design and development of a version of WRC competition ...