First contacts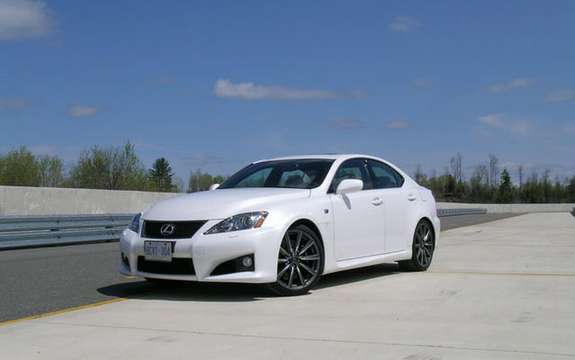 Lexus IS-F, a Japanese sportsmanship!
Lexus of Canada today announced that the new high-performance luxury sport sedan 2008 Lexus IS F is now available at Lexus dealers across Canada.
The Lexus IS F is a high-end high-performance car rear propulsion equipped with a V8 5-liter engine that produces up to 416 hp at 6 600 rev / min and up to 371 lb-ft of torque in 5200 rev / min. This engine has a torque box Sport Direct Shift-eight reports that offers the driver a choice between a manual mode for sporty driving or automatic mode ultra soft passages when seeking the convenience. As the standard IS which it shares the platform, the IS F uses a front suspension Double wishbone rear suspension and a multi-stemmed, but this basic configuration has benefited from tried and true changes on the racetrack, which springs and firmer and more stabilizer bars of large diameter shock. In addition, the IS F is lower and it receives the suspension bushings and a special version of the electric power steering (EPS) calibree for more direct feel.
Other characteristics of performance IS F, we note a system of integrated management of the dynamics of vehicle size for sporty driving (VDIM sport), a control system of the vehicle stability and traction control. As for the braking, it is ensured by high-performance Brembo brake system-supported anti-lock brakes (ABS) with electronic brakeforce distribution (EBD) and Brake Assist (BA) Lexus. The IS F is equipped with P225/40R19 tires (front) and P255/35R19 (rear) mounted on wheels special design.
The retail price suggested by the manufacturer for the 2008 Lexus IS F starts $ 64,400.