First contacts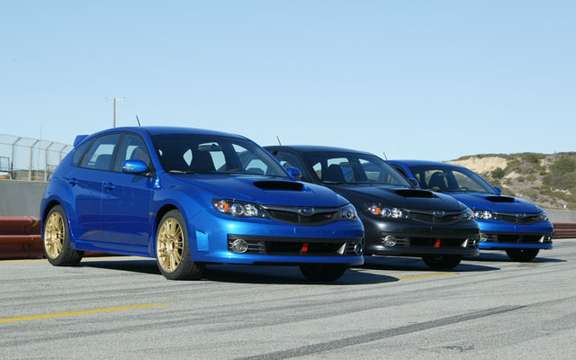 Subaru Impreza WRX STI 2008 TAMING the beast!
Subaru Canada, Inc. (SCI) is pleased to announce that the year 2008 marks the long awaited return of the manufacturer on the Canadian stage rallies. Subaru has an agreement with the stable Rocket Rally Racing in Squamish, British Columbia, for the construction of two new rally cars Impreza WRX STI 2008. One of the vehicles serve riders while the other will be used for Roadshows and as vehicle demonstration events in various countries. 
Subaru Canada is also enchanted to announce that this is Patrick Richard - Champion of the North American rallies twice Rally Champion American and Canadian Rally - which drive the Subaru factory fireball in his quest for the championship title of the 2008 Canadian Rally series. 
"I am really happy with the decision Subaru back to the scene of the Canadian Rally," says Richard Patrick. "The stables Rocket Rally and Subaru Canada both have impressive track on the North American rally circuit, and together they will strive in 2008 to be at the height of their success passes. "
The president and general manager of SCI, Katsuhiro Yokoyama, explained: "The launch of the new generation Impreza last July has brought glowing reviews and it is now the turn of the new Impreza WRX STI to its entry on the walking. Sales of the first generation Impreza WRX and WRX STI had greatly benefited from our presence in the Canadian Rally Championship, so it was logical for us to make a return to the competition with the most recent version of the rally-inspired Impreza. "
For his part, Brian Hyland, director of sponsorship and distribution for SCI, said: "I'm looking forward to see the return of Subaru Rally on stage. When we put an end to the participation of Team Subaru Canada at the end of 2004, thousands of fans were disappointed. Today, return to action enchants us, even the presence of Patrick Richard who will drive a new Subaru Canada - this time at the wheel of the new STI. This return will spice assuredly action the series Rally 2008 ".
The tests of the Canadian Rally Championship will be broadcast on TSN across Canada and the RDS chain in Quebec, throughout the year.