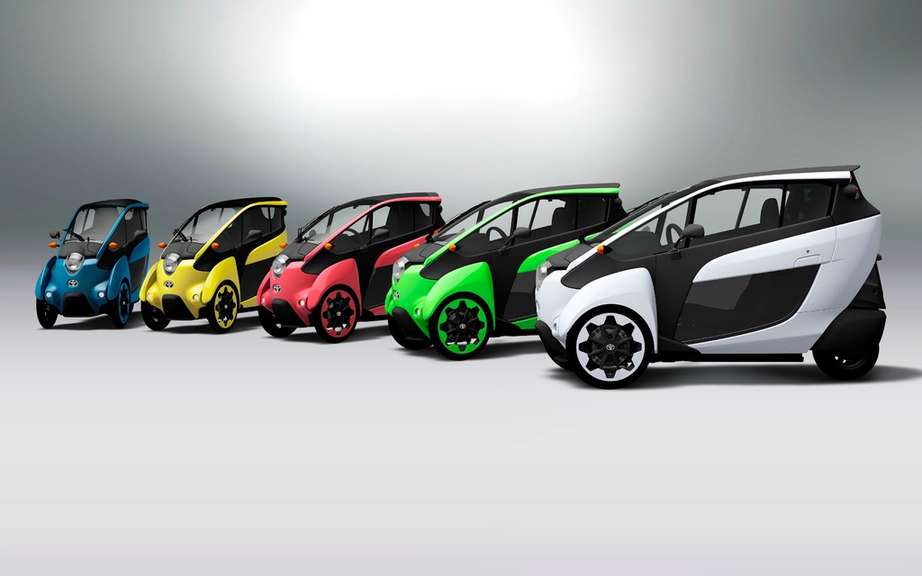 Road tests for the Toyota i-Road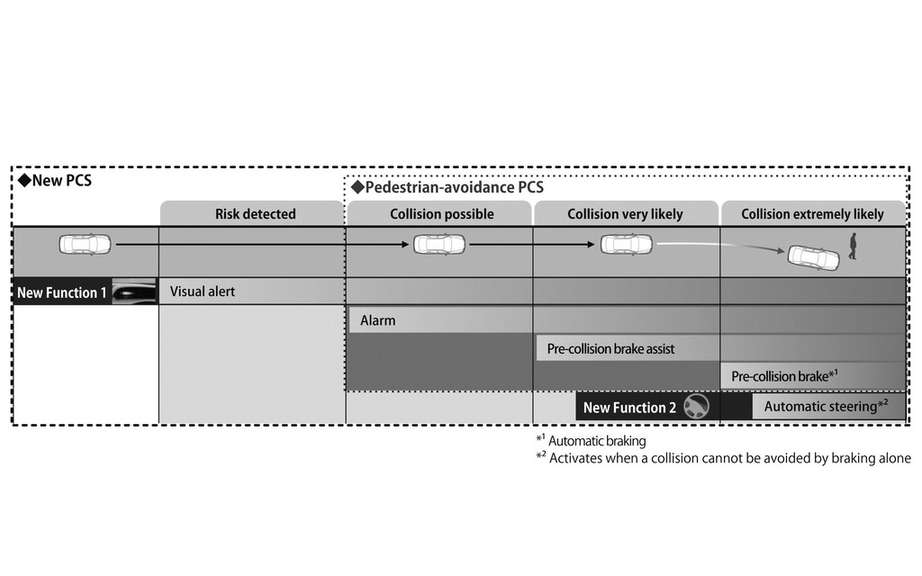 Toyota Secure pedestrians
TMC will present the concept of personal mobility vehicle "Toyota i-Road" has the CEATEC Japan 2013 exhibition
Toyota Motor Corporation (TMC) announces that it will extend the urban transportation system optimizes "Ha: mo" 1, which is from October 2012 subject to operational trials Toyota City, Aichi Prefecture. The expansion will be launched on October 1st.
In addition, TMC will exhibit concept of a personal vehicle "Toyota i-Road" mobility, intended to be part of the system Ha: mo has exposure Cutting-edge IT & Electronics Comprehensive Exhibition (CEATEC) Japan 2013, to be held international convention complex in Chiba City Makuhari Messe from October 1 to 5.
Ha: mo, a collective noun is a system designed to serve urban transport users, cities and society in general by combining the optimal way of personal mobility vehicles, such as cars and public transport. The system includes "Ha: mo Ride", a sharing service that meets compact electric vehicles need to transport over short distances in the city, and the suggestion of optimal multimodal trips that take into account both the emissions of carbon dioxide Total and convenience as well as the operational state of road systems and public transport.
Changes to the system Ha mo
1. Most vehicles shares
• 45 electric vehicles to share "COMS", produced by Toyota Auto Body, will be added to the existing fleet of 10 units on October 1, and the total number of vehicles will increase to 100 by mid-octobre2. In addition, access to vehicles and their use does require more key.
• 52 assisted bicycle "PAS" Yamaha will be added to the existing fleet of 10 units on October 1, and it is planned to increase the fleet to 100 units.
• TMC will continue to develop the concept of a personal vehicle Toyota i-road mobility as an electric vehicle car and will integrate the system Ha. Mo to early 2014 Given its ultra-compact dimensions also practices as a motorcycle and the new type of driving pleasure it offers, it is expected that the vehicle Toyota i-Road will answer a wide range of user needs.
2. Increased number of positions vehicles
• The number of posts or users can rent and return the vehicles will increase in stages: 13 items will be added to the four existing on October 1, and the network will have a total of 21 posts in mid-October.
• The new positions will be situated near the main railway stations, major public institutions, major retail and office TMC places where it is expected that very many users go shall prevail. Unidirectional use between stations vehicles, one of characteristics of Ha: mo Ride that responds effectively to the diversified needs of users, will remain in force.
3. Testing a paid service sharing
• To verify the effectiveness and commercial feasibility of sharing service, a system of pricing based on the use will be effective October 1, no subscription fees or monthly fees. In the case of COMS, the price is 200 yen for the first 10 minutes and 20 yen for each additional minute.
• A tariff system based on supply and demand, which includes discounts for return journeys, will be launched in mid-November to improve the distribution of vehicles in certain positions. Usage patterns will be computed and the relationship between pricing levels and frequency of use will be analyzed.
4. More convenient thanks to the suggestion of multimodal trips
• The addition of information on Ha Service: mo Ride guiding multimodal journeys will allow the suggestion of new routes using the Ha Service: mo Ride in cases where vehicles positions are close point of departure or destination.
• The user can readily book a vehicle Ha: mo Ride by accessing the app for smart phone Ha: mo Ride from an icon link displayed on the journey.
• To make the bus more convenient, the system will be connected to a system of integrated operational management bus developed by Hitachi, Ltd.. to allow users the list of schedules and routes of various bus companies.
• To allow the service to act as a portal for information on the regional circulation, it is expected to add to it certain functions and information, such as the issuance of opinions on road congestion along the planned paths and registered users a recommendation function trips and weekly forecasts of congestion to encourage the use of paths and different ways of transport.
Increase the number of members of Ha 5 mo.
In conjunction with the increasing number of vehicles and vehicle positions, the current approximate number of 100 members is expected to increase to about 1000. Campaign a month (which includes a reduction in base fees) will commence on 1 October to promote the benefits of accession with a wide range of users.
Model concept Toyota i-Road will be in the exhibition CEATEC Japan 2013
Length 2350 mm
Width 850 mm
Height 1,445 mm
Wheelbase 1700 mm
Weight (without occupants or other charge) 300 kg
Tire Size Front: 80/80R16
                                       Rear: 130/70R10
Two CapacityCapacite
Minimum turning radius 3.0 m
Powertrain Electric Motors (2 kilowatts? 2)
Maximum speed 45 km / h * 1
Autonomy on a charge 50 km * 2
Lithium-ion
* 1Specifications european; * Target 2Autonomie a constant speed of 30 km / h
Source: Toyota
View the gallery