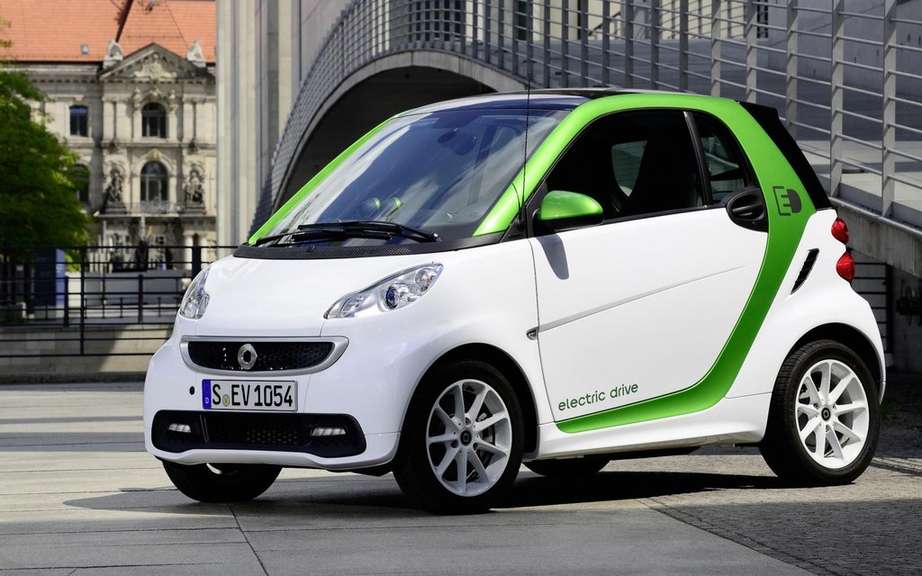 smart fortwo electric drive: the possibility to rent a battery
smart Canada recently unveil the price of its model fortwo electric propulsion entirely, available in coupe and convertible versions.
Available from $ 26,990 in its declination and cut from $ 29,990 for the convertible, it becomes the most affordable electric vehicle in the Canadian market.
The automaker also took the opportunity to present its ebike. An electric bicycle which requires disbursed to $ 3,240.
The smart fortwo electric drive
For us, it is the third version of the technology fortwo electric. It is powered by an electric motor that develops a power of 74 hp (55 kW) for an impressive torque of 96 lb-ft.
Rating performance, the city goes from 0 to 60 km / h in 4.8 seconds and its top speed is around 120 km / h.
Its capacity is 145 kilometers.
The brand dealers already take orders. However, it will have to wait a year before taking delivery of the smart fortwo electric drive.
The smart ebike
The electric bike is a smart model of very upscale benefited, among others, has LED lights.
Depending on the power level selects and pedaling cadence, the eBike can travel up to 100 km.
The electric motor is responsible to train the hub of the rear wheel in addition to playing the role of generator during braking.
Its battery cell lithium-ion 423 Wh, can be charged through a household outlet or simply by pedaling.
This beautiful bike is available from mid-July.