Honda Civic: Always the best selling car in Canada
Detroit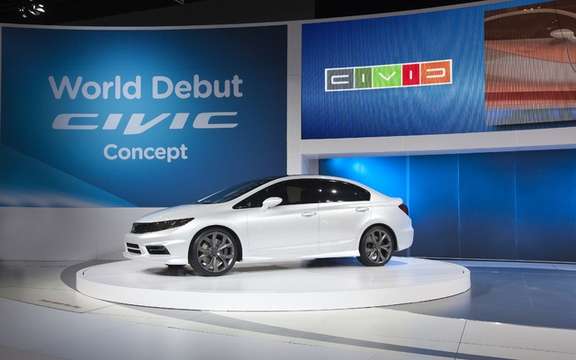 Honda Civic 2012: Coming soon to a dealer near to you
Honda Civic retains its title as best-selling car in Canada
The Civic is the most passenger car sold in Canada for the 13th year in a row
With 57,501 units sold in 2010, the Honda Civic remains the most passenger car sold in Canada for the 13th consecutive year. Since 1973, nearly 1.6 million Honda Civic have been sold in Canada, making this model an important element of the Canadian automotive landscape. The all-new 2012 Civic, which represents the ninth generation of the model will go on sale in the spring.
"We thank the thousands of Canadians who bought a Honda Civic last year and thanks to whom this car is the most sold in Canada for the 13th year in a row," stated Jerry Chenkin, Executive Vice President, Honda Canada Inc. "We are honored by the confidence that these buyers place at the Civic, nice car to drive which has a high resale value, excellent energy efficiency and better safety features in its class.
"With the exception of the Civic Hybrid, all Civic models sold in Canada are produced right here in Canada. We are proud of our investment in Canada as a manufacturer of leading vehicles. In fact, nearly half of the vehicles that we sold in Canada in 2010 were built in the country; among them include the Honda Civic as well as models MDX, Acura ZDX and CSX, the latter being a Canadian model exclusivity. "
For 24 years, the assembly plants Honda of Canada Mfg.. has Alliston, Ontario, produced more than 5.3 million Honda and Acura vehicles; Of these, more than 3 million were Honda Civics.
Now in its 41st year of operation in Canada, Honda Canada manufactures the Honda Civic models and MDX, Acura ZDX and CSX at its two assembly plants in Alliston, Ontario. It produces 4-cylinder engines with low consumption destined to the Civic in its engine plant situated nearby.