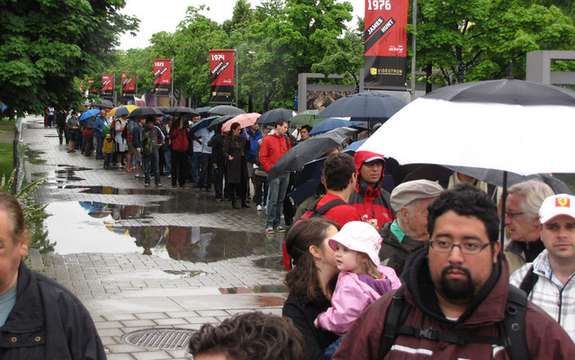 Day "Open House" Grand Prix du Canada
With the return of the Circus in Montreal Formula 1, the different festivities are going well and that more than ever. As proof, my short visit to Crescent Street or the tide of the world was something we put the nerves alive.
Ford's turn
In recent years we have been accustomed to see the Japanese Honda take a preponderant place on the Crescent Street, but this year is the American manufacturer Ford who took the pole position. An excellent opportunity for it to showcase its very iconic Mustang, little Fiesta and all-new frame of its popular Ford Focus.
Full of pretty girls
As is customary within the promotional festivities that take place on Crescent Street, many businesses rely on charms very pretty girls to attract the attention of passers to their booth. And it is still the same this year.
Crowded terraces
Saturday after noon he was very nice and decks were crowded with customers. For many of them, it was just taking a nice cold beer to cool off better while others took the opportunity to enjoy a delicious meal.
Peel Paddock
For the occasion, Peel Street is also closed to be able to present the activities of an entirely different order, but equally interesting, especially for the ladies. Thus, we present fashion shows, culinary shows and parades well on exotic cars, including the sumptuous Ferrari. Shows are also presented in the evenings.
Have you seen my beautiful car!
Ste-Catherine Street West is more than ever the theater of "Have you seen my beautiful car" or cotoient cheerfully Jaguar, Ferrari, Lamborghini and Porsche. Cars that make more dream, who like you turned the head on their way and do not pray to get caught in pictures ...
This is what I love in a city like Montreal and multiple open and accessible to the general public events. My Viree p'tite Saturday on Crescent Street is costing me $ 20 and I got very good fun ...