Hybrid vehicles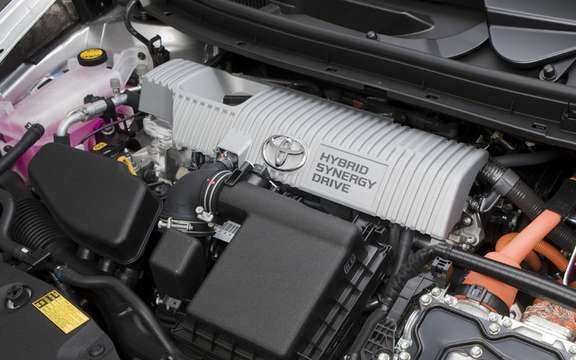 Toyota and Mazda conclude a license agreement regarding hybrid technology
The first Canadian program under test Toyota global scale will test the new Prius Plug-in hybrid operating conditions and climatic real.
Toyota Canada brings together academics, governments, cities and distributors of electricity to put a test for future transportation ecologically sustainable.
The need to develop sustainable transport has never been stronger. It is in this context that Toyota continues to develop new means of transport to reduce dependence on fossil fuels, today announced the first phase of a national Canadian Partnership for demonstrations in terms ACTUAL new Prius Plug-in Hybrid Vehicle (Prius PHV) Toyota.
Compared to conventional hybrid vehicles, the Prius PHV can recharge its new lithium-ion batteries on the power grid and roll and electric only mode for longer distances and at higher speeds. For consumers, this technology means fuel savings and reduced emissions, and brings us closer to the ideal ecological car.
For the first phase of this national trial, Toyota Canada Inc. (TCI) is associated has 13 partners, including academics, ministries of provincial governments, municipalities and distributors of electricity. Thanks to partnerships in four provinces - British Columbia, Manitoba, Ontario and Quebec - this test on vehicles with advanced technology is the first of its kind in Canada.
"The participation of partners also diversified is both an encouraging sign and pledge of success of the launch of electric vehicles and plug-in Canada," said Sandy Di Felice, Director Manager of TCI. "Each province participated in the trial has already demonstrated an excellent vision in matters of planning for rechargeable electric vehicles. "
TCI will provide a Prius PHV each province will conduct its own tests to the local scale. TCI retain a fifth Prius PHV to perform its own technical and marketing tests. Trials will begin shortly and will continue throughout the next winter just to evaluate the performance of the Prius PHV in a wide range of driving conditions and weather conditions.
Each vehicle will be put to the test team a telematics system to capture performance data. Partners are encouraged to drive their Prius PHV on the road and weather conditions and as varied as possible circulation.
Inspired from the world's most popular hybrid vehicle, the Toyota Prius PHV is designed to deliver a range of over 20 km and a top speed of nearly 100 km / h while driving on battery power alone. In addition, a small gasoline engine Atkinson cycle allows the vehicle sailed back to hybrid mode and operate like a regular Prius - conferring him the independence and performance Canadians demand from today's vehicles.
"We are pleased that Canada has been selected by Toyota to participate in global test of the Prius PHV. This allows us to perform technical tests and acceptability of testing of the product on the market that are specific to climate conditions and clean driving experiences in Canada, "said Ms. Di Felice. "In addition, the results of trials conducted in Canada will ensure that the Prius PHV performs well in all other countries with cold, ice and snow. "
Here is the list of partners participating in the trials:
British Columbia:
BC Institute of Technology
BC Hydro
City of Vancouver
Ministry of Energy, Mines and Petroleum Resources
University of Victoria - Institute for Integrated Energy Systems
Manitoba:
Manitoba Hydro
Manitoba Innovation, Energy and Mines
University of Manitoba
Ontario:
AUTO21 Network of Centres of Excellence
City of Toronto
Quebec:
Universite Laval
Ministry of Natural Resources and Wildlife
Hydro-Quebec