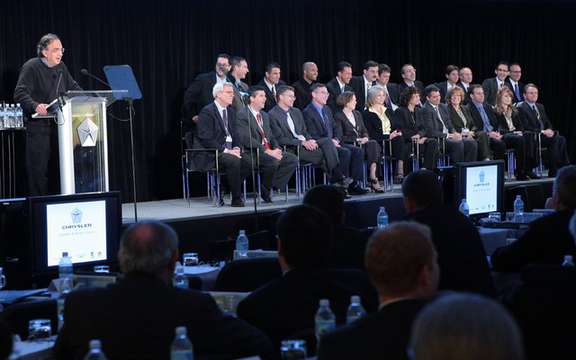 Chrysler / Fiat 2010-2014: synergy is finally STARTED
The CAW president Ken Lewenza, welcomed the new business plan for Chrysler Group LLC which was presented today to analysts, journalists and interested parties Chrysler during a special meeting in Auburn Hills, Michigan.
"The recovery plan for Chrysler is innovative, credible and very interesting," he said Lewenza. "The new Chrysler management team, including the direction of Fiat, had extraordinary ideas to improve quickly attractiveness, quality and energy efficiency of Chrysler products."
"The success of the implementation of this plan will have many positive spinoffs for Canada," Lewenza added.
Lewenza attends the Circular has Auburn Hills along with the CAW economist Jim Stanford meeting.
Here are some highlights of the plan with respect to Canadian Chrysler plants:
    * Changing full, both from the inside as the outside, the Dodge and Chrysler minivans produced in Windsor.
    * Launch of new models of vehicles and Charger has 300 assembly plant Brampton from 2010.
    * New marketing strategy aimed at modernizing the promotional activities of Dodge vehicles (many of which are produced in Canada) and separate them from the brand new Ram trucks created for Chrysler.
    * Complete Revision of the quality management was Chrysler, which has already helped improve radically the results to this chapter.
    * CARRYING program making mondiaI (World Class Manufacturing) Fiat weapons, including Canadian Chrysler plants. CAW members participate and adapt to this important change.
    * Intensification of promotional activities of Chrysler products (which are in some cases jointly marketed in the brand Lancia Fiat) in foreign markets, which will reduce to some extent the large and persistent trade deficit in the automotive sector between Canada and the countries and territories that are not part of NAFTA.
"We are hopeful that the plan will help its Chrysler workers emerge from the incredible state of insecurity in which they lived for a few years."
Lewenza welcomes the decision of the federal and Ontario governments to participate in the Chrysler bailout earlier this year, in exchange for a guarantee of 20% stake in the future production of Chrysler.
"This decision assured the presence of the company in Canada and created in association with the recovery plan, real opportunities for job gains in Canadian facilities Chrysler from 2012," concluded Mr. Lewenza.