Tests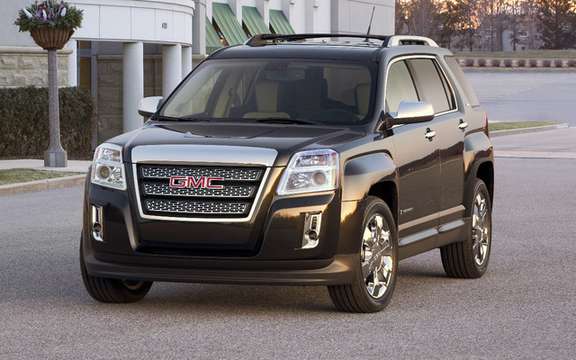 2010 GMC Terrain, like, not the same!
With the demise of the Pontiac brand and its various products, including model Torrent, it was obvious that he had to return to the catalog, but under a new identity. This is now done, since it becomes the GMC Terrain, little brother to twin Chevrolet Equinox. On the chessboard of GMC models, this newcomer takes the place of regrets Envoy.
Assemble a Canadian plant in Ingersoll, called by some CAMI, it is offered in SLE and SLT versions, both available at train has FWD or AWD. This crossover compact type of vehicle can accommodate five passengers, who will enjoy many treats. A four-cylinder 2.4-liter 182 horsepower engine is offered in entry-level, while a 3.0-liter V6 engine with 264 horsepower is optional oofert. In both cases, there is an automatic six-speed gearbox.
For more information about him, here is the press release issued by GM:
---------------------------------------------------------
GMC Announces Pricing of the new Land
Oshawa (Ontario), September 22, 2009 - GMC announced that its new field, a crossover SUV seats 5, which arrives in dealerships, is offered has a base price of $ 27,465 for the FWD version and of $ 29,075 for the AWD version.
"Built right here in Ingersoll, Ontario, Land is the latest no-GMC and offers technical expertise and tradition in matters truck brand in a smaller niche in the heart of the market of crossover today "stated Marc Comeau, vice-president of sales, after-sales and marketing for GM of Canada. "With its bold styling, plenty of amenities and the best fuel on the highway of the category, we believe that the Land seduce consumers looking for a distinctive vehicle that stands out from conventional crossovers. "
SLE1 The basic model is fitted with the new powertrain GM as a 2.4L engine has direct injection and a 6-speed automatic transmission has, which consumes barely 6.1 L/100 km Highway, less than the Ford Escape hybrid, the Toyota RAV4 and Honda CRV.
Terrain also offers a back seat Multi-Flex exclusive that can be optimized for menager the largest legroom in the back of his category or more than 1 800 liters of volume behind the front seats utility.
At this price you also get basic characteristics of serial unexpected as an integrated rear camera, a first in the category, a sound system AM / FM stereo with CD player and six speakers with USB port, even a range full of safety features, including six airbags, the control system of the vehicle stability StabiliTrak and OnStar system.
The high-end version SLT2, which includes leather upholstery, a superior sound system Pioneer category, a tailgate control electric programmable reversing radar and a special chrome appearance package is available from $ 34,400. Terrain also offers a powerful V6 3.0 L direct injection and a host of optional features like a navigation system integrated, the compatibility has Bluetooth handsfree telephony systems and infotainment DVD to rear seats .
The price of land well equipped increases progressively more luxurious versions of the models has FWD and AWD:
GMC Terrain - SLE1 TA - 1NT - $ 27,465
GMC Terrain - SLE2 TA - 1SB - $ 29,815
GMC Terrain - SLT1 TA - 1SC - $ 31,440
GMC Terrain - SLT2 TA - 1SD - $ 34,400
GMC Terrain - TI SLE1 - 1NT - $ 29,075
GMC Terrain - TI SLE2 - 1SB - $ 31,425
GMC Terrain - TI SLT1 - 1SC - $ 32,795
GMC Terrain - TI SLT2 - 1SD - $ 35,755