2011 Hyundai Sonata: it becomes an elegant four-door cut
First contacts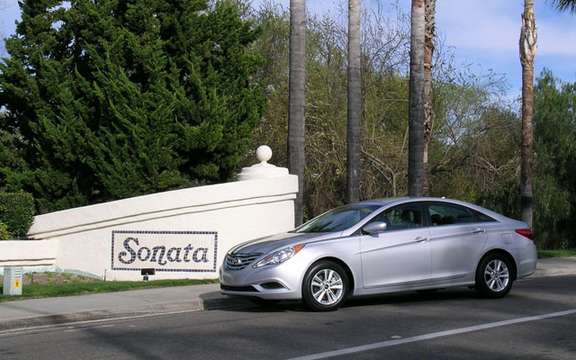 Hyundai Sonata 2011, she is beautiful!
The all new version of the Hyundai Sonata sedan, has just to point the nose soil South Coreen.
The current model of the Sonata sedan, is in its 5th generation, which appeared in 2004. Till date, we can readily conclude that the latter is the model most states this range of cars, which admittedly it, had to go through many dark before to receive a small MOST UPRIGHT reputation periods.
Moreover to this chapter, let us remember the period when the latter was assembled in Quebec, against winds and tides, and finally know a very bleak denouement at once to Quebec that had engulfed millions in public funds and society South Korea, which in this adventure had lost millions in unprofitable investments ...
Today, she tries to take his place
In North America, the market for intermediate sedan is dominated by two cars that crush everything in their path. These are the Toyota Camry and Honda Accord which have ceased to improve over the generations, while their U.S. counterparts are desperately looking for new buyers.
For at least three years with our neighbors to the south and more at home in Quebec, the Hyundai vehicles beneficient a reputation in their reliability, which are increasingly the envy of many manufacturers. That has an effect on sales figures, experiencing very appreciable increases in full economic crisis and facing the decline in sales of more competitive products.
Future Sonata, borrows the style of the Mercedes CLS
This new mount Sonata unveiled in Seoul, presents a totally new style to the lines than that of the current discrete model. Thus, it announces a very elegant silhouette that is reminiscent of the Mercedes-Benz CLS seductive, the first car to opt aesthetics approach cutting style four-door, which was followed by the very nice Volkswagen Passat CC.
Completely redesigned, the new Sonata inherited a new grille, headlights at the fringe style and position lights that give it a certain aggressiveness, which should enable it to better impose its strong niche well-filled ...
The term 'you turn the page and move on to something else' applies well in this car and it has all levels. Thus, we learn that in Europe it will henceforth called i40 and with us, it will retain the name of Sonata. Engine family is a Theta II turbocharged four-cylinder 2.0 liters of an estimated 185 horsepower, while the coupling has a six-speed automatic transmission.
Normally, this newcomer should find somewhere concession in 2010, as model 2011 ...