New models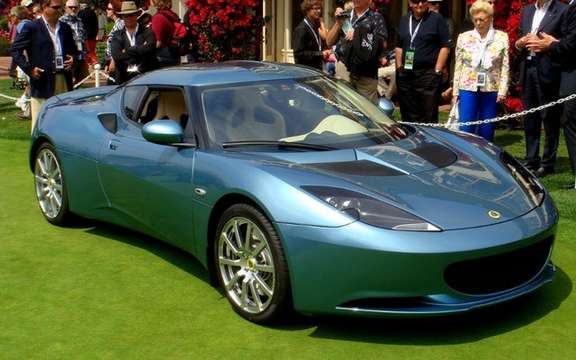 Lotus Evora passage in Montreal
It is with great pride that the direction of the Lotus dealer Montreal, John Scotti Automotive, we presented the new Lotus Evora who made a lightning passage Montreal.
Franchise products of the British brand for three years, this concession has already livery Elise and Exige models 180. Across Canada, there are three car dealerships in the cities of Montreal, Toronto and Vancouver.
Few novelties at Lotus
The arrival of the seductive Lotus Evora, represents a new approach, or almost a revolution in both the style and the technology used in its design.
To make a long story short, remember that the most popular model in the range, the Lotus Elise started her career in 1996 and it was renewed in 2001. Ont followed thereafter, the models Exige and Europa 2004 2006. These last were developed based on the model Elise and all three are assembled English Hethel factory.
Lotus Evora in brief ...
Lotus Elise and Exige, by their design, their style and four-cylinder engine VITAMINEE, cater to a clientele fond of sporty pure and hard, even recalling that offered by the English sports of years '60.
Contrary to this approach, the Lotus Evora presents itself as a powerful sport coupe GT type, which beyond its power and performance, having also make room for some comfort for its passengers. Moreover, the latter is a 2 +2 configuration, although the rear seats are extremely limited.
With this new approach, even this new philosophy it is clear that the manufacturer is finally in search of a new clientele who come to join the current clientele, already possessing an Elise or Exige model and might be interested in a move a new product, while remaining true to the brand.
The V6 Toyota Camry
For the first time in its history, engineers have opted for Lotus engine has a central position. Like the other models of the brand using a Toyota four-cylinder engine back, the seductive inherited Evora V6 engine VVT-i 3.5-liter Toyota Camry, which sees its power increase has 276 horsepower. For now, he is associated has a six-speed manual gearbox, while an automatic transmission is selection of reports and driving is currently developing.
As it should, and it was like the other models of the brand, this newcomer also benefited structure and mechanical elements aluminum technology very thrust or exclusive to the manufacturer and that references in the matter. Its weight is 1 350 kg.
A very target market
Annually, it sells around 2,500 cars Lotus around the world, which now belongs to Proton of Malaysia.
With the arrival of the Evora model, it is clear that sales of Lotus will know significant increases.
For the representative of Lotus Cars USA who was in Montreal to odds Bernard Durand Director of Sales at John Scotti Lotus Cars, for we present their new model, sales estimates of the model are evaluated Evora has 1,000 units for our neighbors to the south, around 150 in Canada, including thirty in Quebec. At John Scotti was already ten models sold.
The Lotus Evora will be concession next spring and it is estimated that the price should be between $ 80,000 and $ 90,000, depending on options chosen ...