New models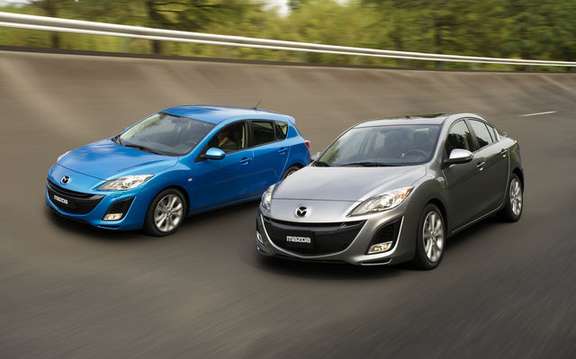 Mazda3 / 3 Sport, photos, a dozen
First contacts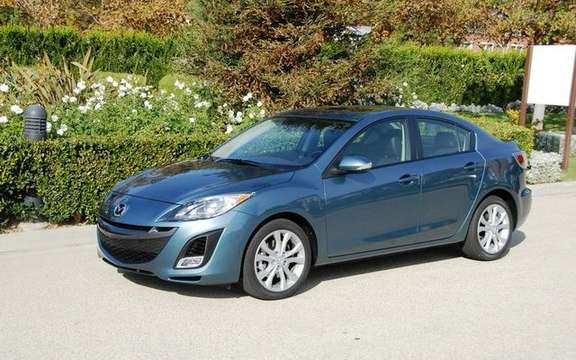 Mazda Mazda3 2010 better than ever!
Last month, Mazda showed us its world premiere his new Mazda3 sedan in 2010 and when holding the auto show in Los Angeles. gold, here we learn through communication that the Sport version five-door hatchback will make its world debut on 3 December next and within the auto show in Bologna, Italy. Cote figure and this was like the sedan, we expected a more radical changes, although the presence of a new much more aggressive grille, brings a new dynamic to the car. We also take this revision to regaillardir finishing and especially interieures presentation. The dashboard gets a makeover, becoming more enlarged, less massive and still functional. Key enhancements to the new Mazda3 is under the hood. All comes down by the arrival of a new 2.5-liter engine of 167 horsepower, which replaces the 2.3-liter engine, while the engine of entry game remains faithful to the four-cylinder 2 , 0 liter 148 horsepower.
Here is an excerpt of the press release from Mazda Canada 
----------------------------------------------------------------------------- 
Global launch of the all new Mazda3 Sport 5-door hatchback at the Paris Motor Show Bologna 2008
(Richmond Hill, ON): Mazda Motor Corporation will present the all-new Mazda3 Sport 5-door hatchback (known as the Mazda Axela in Japan) at the Motor Show Bologna December 3, 2008 The second generation Mazda3 Sport. has followed the sedan, which made its first appearance at the Motor Show Los Angeles 2008.
The all-new Mazda3 Sport adopts the same characteristics as the sedan, it offers a sporty design and dynamic driving, together with exemplary environmental performance and safety matter.
The all-new Mazda3 Sport is offered with key features rarely seen in its category, including:
- functions and Bluetooth hands-free cellular phone audio;
- bi-xenon headlights adjustment has automatic level with Adaptive Front Lighting System;
- the keyless entry system without key "smart";
- the system boot a button.
In Canada, the engine range of the Mazda3 Sport will include an improved version of the current MZR 2.0-liter 148 hp and a new MZR 2.5-liter engine developing a maximum power of 167 horsepower. The new MZR 2.5-liter uses for the first time in the new 2009 Mazda6, replaces the MZR 2.3-liter in order to provide a more sporty performance.
Both engines are equipped with world first catalyst that uses single nanotechnology. This catalyst has the advantage of controlling even smaller nanotechnology and provide ecological peak performance physical structures. This new technology allows a Mazda to reduce its use of scarce resources such as platinum and palladium.
During the development, particular attention was paid to environmental characteristics, which results in a Mazda3 Sport endowed efficient powertrains, typically mild Mazda engineering and one of the best aerodynamic in its class.
The all-new Mazda3 Sport will be revealed at the press conference Mazda, December 3, 2008 at 9 h 20 (local time).