Tests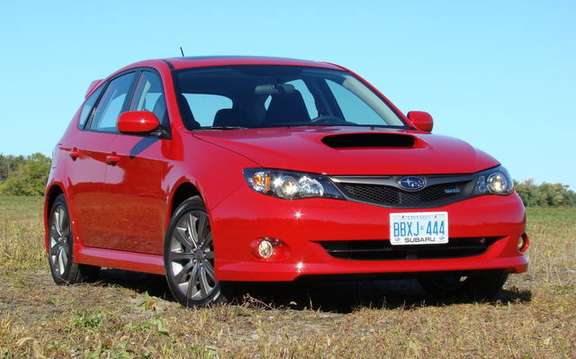 Subaru Impreza WRX 2009, reaction to criticism and the U.S. dollar!
To reduce the impact of the arrival of the Mitsubishi Lancer Ralliart, Subaru will soon introduce a condition called WRX265 more powerful version of the Impreza WRX. As its name suggests, its power will be 265 horsepower, which represents an increase of 18% compared to the 2008 model.
The WRX265 will be available in version four or five doors and include a number of changes. Those it, the car will be entitled to a new suspension more firmly calibree, as well as 17-inch wheels mounted Dunlop SP SPORT. On the side of the equipment, we will add such a sunroof glass and top quality audio chain with SIRIUS satellite radio.
The Impreza WRX endowed engine 224 horsepower nevertheless remain in the catalog for 2009. But it will be the only one to offer an automatic transmission has four reports, the manual transmission has five reports being provided serial. As in 2008, it will also be proposed version has four or five doors.
For its part, the Impreza 2.5i sees its range somewhat modified. The Sport version will be abandoned, leaving a button of the same name available on the base model group. This will include the 16-inch wheels, sunroof, skirts rocker, defroster wiper and heated seats. However, all versions of the Impreza will henceforth series of the telescopic steering wheel, an auxiliary audio jack, a multifunction computer, the system startup assistance sloping the rear disc brakes with Brake Assist emergency and finally , Dynamic Stability Control with Traction Control system.
The 2009 Impreza range will make its entry in dealerships in September. The prizes will be announced at a later.