Tires
Special winter tires, tire pressure sensors
Tires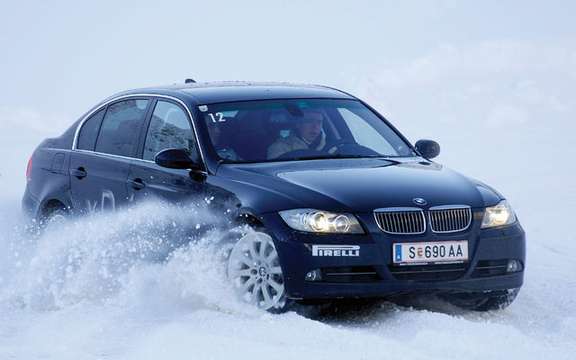 Winter tires mandatory, this time we have no choice
It was an era not too far or all winter tires alike. They all made of a relatively soft rubber sole and dotted with boulders thus creating deep furrows that provided good traction in the snow were. But that was yesterday, today the tire manufacturers have diversified and refined products. There are winter tires for all-terrain vehicles for family sedans and sports cars. Do not forget in addition some models of tires that can be studded or who are already at the factory. What is means you need more than ever to deal with a specialized store whose employees are knowledgeable and who will thus be able to advise you a tire that suits your vehicle and your needs.
To simplify things, we can divide into three main categories tires. There in the first place, the tires especially urban vocation whose base is constituted of multiple sipes for better bite into the ice and provide excellent adhesion on wet pavement. In addition, their configuration makes them relatively quiet tires and even at high speeds. By cons, they are less effective in deep snow. General rule this type of tire offers a higher odds that specialized tires for deep snow speeds. Like most winter tires, a rubber-based silica can reduce premature wear.
Then there is a category of tires primarily Designed Templates for driving in deep snow. The sole is constituted of large blocks isolated from each other by deep furrows which ensures a very good progress when the floor is highly enneigee. In many cases, buyers of this type of tires live in isolated areas who can not afford to be trapped in the snow. Often these same drivers equip their tires nails to optimize their adherence on ice. You should know that the use of studded tires is banned in several Canadian provinces and most American states. Note in passing that many parking floors prohibit access to cars fitted with studded tires. With or without nails, these tires are noisier than the tires in the first category.
Finally, a third category is intended primarily tire trucks and sport utility vehicles. This time, the shoe is more or less similar to that adopted in the specialized tires for snow, but the shoulder is much more aggressive in order to provide better traction to take advantage of integral cog often standard equipment on this vehicle. That so many reasons to consult a specialist to choose a winter tire that suits your budget, your needs, your vehicle has and the anticipated use. Even a little sold a high price and is not suitable for your use will be a bad choice.