SEMA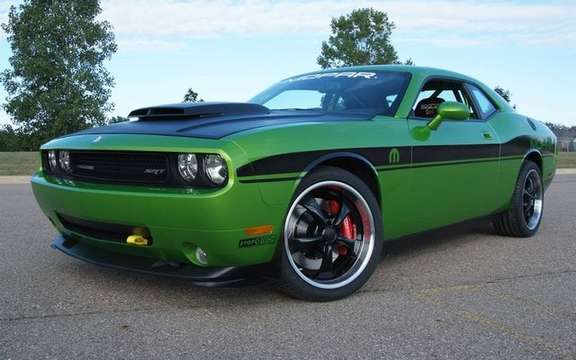 S.E.M.A. 2008, the festival Dodge Challenger MODIFIED
The 2008 edition of the famous SEMA Show will open its doors on November 4. SEMA (Specialty Equipment Market Association) show has become over the years the rendezvous of traders of pieces of cars, props, and other preparateurs who are having ac heart joy to unpack their salads to s attract the greatest possible commands. In this event, the expression 'after market' makes sense.
He stands at the Las Vegas Convention Center that puts at their disposal more than 2 million ft-ca exhibition spaces. The year spent more than 120,000 business leaders from more than 100 countries, we have concluded a business opportunity this show unusual. It is also an excellent opportunity for them to attend the congress, conventions, seminars and demonstrations, even the unveiling of new products. Not to mention that their presence in Las Vegas would normally encourage to do the rounds of table games in the famous casinos. Note that this event is not open to the public.
For us who do not have the right to visit this exhibition, we have all the same pleasure to discover through the Web, newspapers and specialized magazines, the stars of the show, which are more numerous . These stars, they are vehicles modified by specialized companies in the tuning, which has fueled we present the background for most vehicle-a-pat the eye of SEMA. Some of them reveal to us their own achievements, while others present us with modified vehicles, following a order placed with a major manufacturer. Today, all manufacturers should participate in one way or another in this fair of demesure, even in times of crisis ...
Moreover, in recent years some manufacturers benefit from SEMA to unveil world premiere either, but rather in the first North-American vehicle called a series that will be available on the steps, in the months that follow.
Today, the notoriety of the SEMA Show is known worldwide and the importance of media coverage which is attributed, is as important as that devoted to prestigious auto shows in Detroit, Frankfurt, Geneva, Paris and Tokyo.
Here is a first skewer modified vehicles of SEMA 2008
Cadillac CTS Concept
Conceived by tunistic the box, the Cadillac CTS Concept has aesthetic additions that make it more aggressive and luckily without excess. Moreover, the latter is becoming the flagship of GM's best known and especially more representative of the brand in the world. In this very elegant dress hides a powerful 3.6-liter V6 with 304 horsepower.
Dodge Challenger Hurst / Hemi
Currently, the Dodge Challenger is one of the most prized by specialists tuning cars. Several modified versions have already been presented to the press, including models Hurst / Hemi developed based on the SRT8 model. For the occasion, the Hemi V8 engine of 6.1 liters with compressor, sees its power increase from 425 to 500 horses, nothing less.
Hyundai Genesis Coupe Street Concepts
Street Concept is a company that realizes modified vehicles since 1998. This year we are going in the majors by presenting a Genesis Coupe model wearing a black, camouflage type resembling that used in stealth aircraft. The 3.8-liter V6 that accompanies all other benefits from a Magnaflow Exhaust system, allowing it to breathe ...
Lexus GS460, Five Axis
Modify a full-size luxury sedan, is not easy. Designers and developers of Five Axis group, under the direction Troy Sumitomo still completed a huge sedan, which could be used for the drag. Its 5.75-liter V8 engine, whose power remains secret for now, owns all the assets to bring the latter to win even more.
Mercedes-Benz GLK
No less than four modified versions of this compact SUV are presented in this exhibition. It has appealed to Brabus and RENNtech preparateurs, as well tunistic Boulevard Custom and Legendary Motor Cars design each an ultra personalized vehicle. For the latter, it is an exercise of establishment in search of a style that could be likened to the philosophy of each.
Toyota Venza Sportlux
Toyota says the tuning specialists from the firm Street image, the responsibility to design a crossover vehicle full size design has to be noticed, which usually is not peculiar to this type of vehicle. However, we can say without risk of being wrong that they have done their homework. Recall that the Toyota Venza is about to be offered in North American soil.
By the opening of SEMA 2008 edition, we will keep you informed on modified vehicles that will be presented at this event, even unveilings to come ... 
View the gallery