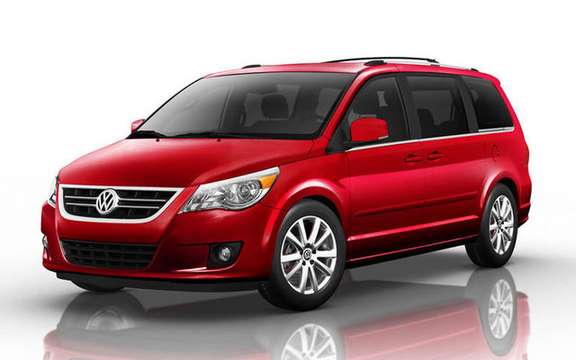 Volkswagen Canada revised its sales targets for the Routan
Volkswagen Canada announces pricing for the new Routan 2009 model year for the Canadian market, this brand new vehicle that can accommodate seven passengers. With a starting price of $ 27,975, the 2009 Routan minivan becomes the imported configuration seven most affordable places in Canada.
The 2009 Volkswagen Routan is powered by a V6 engine of 4.0 L single camshaft in head, deployant 253 hp and a torque of 262 lb-ft of torque is the best series of its category. It is also endowed with a direction and a unique suspension CALIBRATED "has Europeenne" for maneuverability and dynamic of improved conduct in the purest tradition of Volkswagen in matters of German engineering. Paired to a six-speed automatic transmission has to series, the engine of the new 2009 Routan will offer fuel economy is rated by Transport Canada to 8.5 L/100 km on the highway and 13.2 L/100 km in the city.
Easy to recognize at first glance as a member of the Volkswagen family, with its grille and exterior siding stylisee, the new 2009 Routan features an interior that creates a visually appealing, modern environment and heal into the every detail. The Routan presents a configuration that can accommodate seven people in three rows with a utility area and 930 liters behind the seats of the third row. Its versatility allows you to carry a bigger load increasing utility space 2400 liters when the third row is stowed under the floor. Records seats of the second
row can be folded flat when more space is required for longer items; In addition, many storage compartments and cupholders are present throughout the cabin.
Among the features of the new series of 2009 Routan include an automatic climate control system has three zones, a CD player and six speakers, two side sliding doors, curtain airbags front and lateral, the system monitoring tire pressure and the electronic stabilization program (ESP). A proof that the safety of passengers in Routan remains a priority, the National Highway Traffic Safety Administration (NHTSA) awarded the 2009 Volkswagen Routan best safety rating for its category, including a five-star rating in crash tests front and a five stars for passenger protection in front and rear tests of lateral impact collisions. Its monocoque construction and its center of gravity lowers earned the 2009 Routan has a four star rating, the best in its class for resistance to rollover.
Has offered from $ 27,975, the new 2009 Volkswagen Routan will go on sale at Volkswagen dealerships across Canada in late September.