First contacts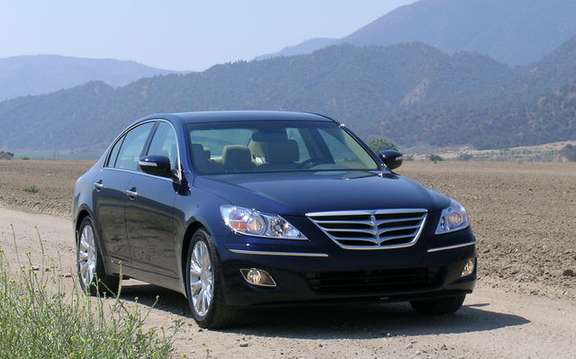 2009 Hyundai Genesis, this time it's serious!
Hyundai Auto Canada Corp.. is proud to announce the price of its new premium sedan. Genesis 2009 first sedan rear propulsion performance of the company will be offered a base price of $ 37,995 for the V6 version, and $ 43,995 for the V8 version.
"This is a luxury car without luxury prices," said John Vernile, vice president of sales and marketing at the Hyundai Auto Canada Corp.. "The 2009 Genesis is intended to prove that Hyundai can offer all the quality that consumers look for in a vehicle, while the equipment they deserve, and the power they desire. We are proud to offer a vehicle with all the amenities, features and driving performance that people expect luxury cars Japanese or european, but much more attractive price. At this price, the Genesis will experience driving a first quality within the reach of a large number of customers who deserve good. "
The 2009 Genesis is offered with a 3.8-liter V6 or 4.6-liter V8 first Hyundai. Thanks to its competitive group features, the Genesis entry level Hyundai is better equipped a better price than the Infiniti G35 base. 
Price and groups of features
The 2009 Genesis is built on a new architecture rear propulsion performance-based, offering an advanced five-link suspension at all four corners. It comes with a choice of powertrains: a 3.8-liter Lambda V6 290 HP (estimated) matches Aisin automatic transmission has a 6 speed, and the new 4.6-liter Tau V8 matches Hyundai has an automatic ZF box six reports.
Both groups offer superb fuel economy. The Tau 4.6-liter develops an estimated 375 HP power with premium fuel and 368 with regular unleaded gasoline, while offering fuel consumption of 12.6 L/100km city and 8.1 L/100km on the highway . The 3.8-liter V6 offers a fuel consumption of 11.4 L/100 km city and 7.2 L/100 km on the highway, surpassing V6 smaller intermediate (Nissan Altima, Ford Fusion) on the highway.
With technology rivaling that of more expensive luxury sedans, Genesis offers features like headlights have automatic adjustment (bend) of chains Lexicon ® and electronic active head restraints.
Standard equipment of the Genesis 3.8
All versions of the Genesis 3.8L are well equipped, with debutant 3.8L DOHC V6 and automatic six-speed gearbox with Shiftronic. We also find disc brakes with four-wheel anti-lock braking and electronic distribution of braking force, the electronic remote heated exterior mirrors and lights, an automatic lighting control and fog lights. Among the series of safety features include front airbags advances, airbags on the front and rear seats and the roof, electronic stability control with anti-skid to the acceleration, and supports headers before electronic assets.
The convenience rating, automatic climate found in two zones and a system of quality control of the air; Seat leather; heated front seats and electrical controls; iPod, USB and auxiliary audio jacks; AM/FM/XM/MP3 chain with a six-CD player and seven speakers; an integrated memory for the position of the steering wheel, exterior mirrors and driver's seat; the white and blue lighting inside a single group with Hyundai electroluminescent instruments; locks and power windows; The proximity switch with start-stop button electric; the mirror self-shading device with integrated HomeLink, and woodgrain trim.
Standard equipment of the Genesis 4.6
The 4.6 version adds to the equipment found on the 3.8 series. It debuted with a 4.6-liter V8 matches has an automatic ZF six-speed gearbox with Shiftronic and a differential slip limit. There are also a sunroof has electric control (tilt and slide), headlight brightness has a self-leveling high intensity, alloy wheels 18 inch with 235/50R18 tires, front and rear detectors aid parking, CHROME rocker moldings, a table edge sheath of leather, steering wheel woodgrain trim and leather sheath, the exterior mirrors autonoircissants, stockings illumines door and electro-hydraulic power steering. 
Suggested retail price of the manufacturer for the 2009 Genesis:
Printer Engine Transmission MSRP speeds Group
Genesis 3.8 V6 3.8L Standard equipment Automatic Aisin six reports $ 37,995
Genesis 4.6 V8 4.6L Standard equipment automatic ZF six-speed $ 43,995
View the gallery