The 2009 Dodge Challenger proposed from $ 24,995
NY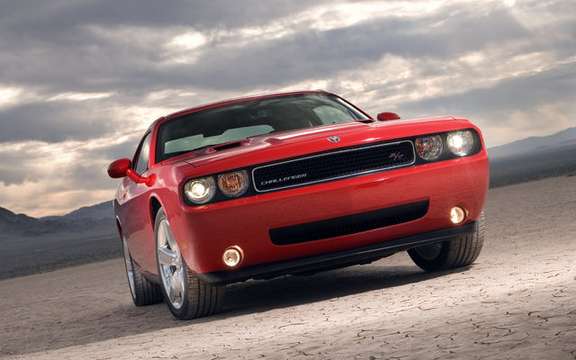 Dodge Challenger, several models REVEALED
Chrysler Canada announced today the asking price for the new 2009 Dodge Challenger. The retail price suggested by the manufacturer (MSRP) of base is $ 24,995, plus delivery of $ 1,300 extra. Chrysler Canada dealers across the country already taking orders for the 2009 Dodge Challenger, which will arrive on the market this fall.
"For our customers, the new 2009 Dodge Challenger, which is built in Canada, represents a reincarnation of the legendary Dodge car," said Mark Bosanac, Vice President, Marketing, Chrysler Canada Inc. "may be delivered with an engine V6 3.5 liter which reached 8.1 l per 100 km at a lower price is $ 25,000, the Challenger offer the Canadian market a complete range of models is an exceptional value. "
The Dodge Challenger is the first five-passenger cup product on the platform of the rear propulsion company, which has been proven with Charger and Chrysler 300 models. With the 2009 Dodge Challenger, whose design will definitely turn heads The customer has the choice between three engines and an automatic or manual transmission.
The 2009 Dodge Challenger has several modern amenities, including a GPS (navigation system) uconnect (MD), uconnect phone with Bluetooth (R) technology, SIRIUS Satellite Radio, a starter button Keyless Go and Remote Starter . Challenger has also more than 25 safety features, including airbags additional lateral, an anti-lock braking system (ABS), an electronic device stability PROGRAM (ESP), a support system for emergency braking, traction control system has the acceleration, automatic headlights, an indicator of tire pressure and system startup assistance slope on Challenger equipped with the manual transmission has six gears.
Four models are available in Canada: Challenger SE, SXT Challenger, Challenger R / T and Challenger SRT8 (R).
Challenger SE 2009
Challenger SE has an MSRP of $ 24,995 (delivery cost $ 1,300 extra), includes a high-performance 3.5-liter V6 produces 250 horsepower (186 kW) and torque of 250 lb / ft (339 Nm). Consumption of Challenger SE with automatic transmission has four reports, an estimated 12.2 l/100 km or 23 miles / gallon in the city and 8.1 l/100 km or 36 miles / gallon on the highway.
Other standard features of the Challenger SE include aluminum wheels with 17-inch tires P215/65R17 four seasons, disc brakes on all four wheels, the electric adjustment eight positions of driver's seat, enough space for comfortably seat up to five adults, a class cargo space (16.2 cubic feet), a rear seat 60/40 folding with armrest and dual cupholders, lateral airbags, remote unlocking the doors, mirrors electric folding, the power door locks and electric handling ice portiere with rapid lowering, air conditioning, a radio station AM / FM / CD with MP3 capability and four speakers, bucket seats cloth low, a flying tilt and telescopic, dual sun visors with mirror and a light for the tire pressure.
Challenger SXT 2009
At an MSRP of $ 26,995 (delivery cost $ 1,300 extra), Challenger SXT offers the following options: alloy wheels 18-inch BSW Touring tires 18 inches, fog lights, anti-lock disc brakes with traction control system has acceleration on all four wheels, brake assist and electronic stability device programmed shift knob selection and covered steering wheel, luxury carpets, alarm system and visor with illuminated mirrors.
Challenger R / T 2009
The MSRP of the new Challenger R / T 2009 is $ 34,995. Equipped HEMI V8 5.7 l of last generation, the Challenger R / T produces an estimated 370 horsepower (276 kW) and torque of 398 lb / ft (540 Nm) with the standard five-speed automatic transmission. This engine endows the thrifty technology multicylindree (MDS), which enables up to 20% save fuel without sacrificing performance and present an improvement of 4% compared to the 5.7 HEMI 2008.
Other standard features of the Challenger R / T 2009 include the bucket seats heated leather, the Keyless Go system, SIRIUS Satellite Radio (TM), six-speaker Boston Acoustics, rectangular exhaust tips doubles chrome, brakes ABS, electronic stability PROGRAM (ESP), Brake Assist emergency brakes with ventilated, BILLET aluminum wheels with 18-inch high-performance all-season tires P225/60HR18, fog lights, a choice of exterior colors, heated exterior mirrors, steering wheel and lever selection leather sheaths, automatic headlights, mirrors illuminated visor, rear spoiler color of the body and door access to tank cast.
The Track Pak features a six-speed manual transmission Tremec TR-6060 with lever selection shaped butt. Coupled with the V8 HEMI (R) 5.7 l, this transmission develops some 375 horsepower (280 kW) and torque of 404 lb / ft (548 Nm). The Track Pak also includes assistance in startup slope, LIMITED SLIP DIFFERENTIAL (serial on SRT8), the pedals with bright colors and a performance steering wheel (standard on SRT8).
Challenger SRT8
The MSRP of the Challenger SRT8 (R) 2009 is $ 45,995 (delivery cost $ 1,300 extra). The Challenger SRT8 (R) 2009, offered with a manual transmission or six-speed automatic transmission with a five-speed series, is powered by a V8 HEMI 6.1 l, exclusive to the SRT, which produces 425 horsepower ( 317 kilowatts) and a torque of 420 lb / ft (569 Nm). A differential slip limit has serial, high-performance blue and red B5 External paints (available later) meme that black decorative stripes on the hood are among the new features of this model in 2009. The Track Pak includes a conventional lever selection shaped butt and a manual transmission Tremec TR-6060 six reports with assistance sloping boot.
Other standard features of the Challenger SRT8 (R) 2009 include interior inspired race cars, including seats "performance" with a red stripe and additional bolsters that stick to their seat passengers in sporty driving situations, four gauges in the instrument panel with tachometer and speedometer graduated from 0 to 180 mi / h in the center pages of reconfigurable performance that allow the driver to see the acceleration from 0 to 60 mi / h, 1/4 mid and 1/8 mi, a gauge of the strength of acceleration, uconnect Tunes, an electronic device and system stability PROGRAM ABS rules exclusively for model SRT forged aluminum wheels 20-inch Brembo brakes red , a hood with two functional air intakes, a rear spoiler and a functional black single exhaust system.