Ferrari California, an unveiling in accelerated ...
Paris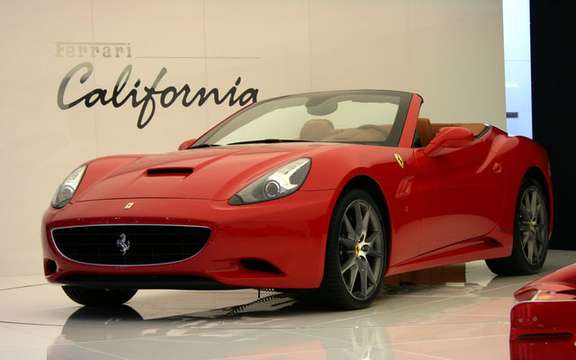 Ferrari California, striptease which we unveiled more
It is not every year, away from, the prestigious Italian brand Ferrari unveils us a new model, but each time there is an event which benefits from global media coverage, has the speed a signed F1 Ferrari driven by Kimi Raikkonen and Felipe Massa.
The Ferrari California is directly inspired the model 250 California Spyder which was produced between the years 1958 and 1963. In six years of marketing, sales reached 125 units. This is also an opportunity to celebrate the 30th anniversary of this legendary Ferrari.
This new model which we unveiled, brings many novelties and technologies that are used for the first time by the manufacturer. Among them, we find a retractable hardtop which will have its occupants to walk, sometimes in a pretty cut two squares or driving a seductive roadster, which was to entertain the heads turn in his path. 
Its geometry remains true to the brand philosophy in this matter, by using a frame type and a Space Frame body, all aluminum, whose rigidity and lightness have learned to make good household.
To propel this pretty face, the engineers have opted instead for a front engine. It is a powerful 4.3-liter V8, combines for the first time has a direct injection system as well as a flat crankshaft. The advertised power is 460 horses 7 500TM. It has also hired a sequential box has dual-clutch seven-speed only.
With such a horse, this cutting-Cabriolet is expected to reach 100 km / h in less than 4 seconds.
The stability of the car among other fear rely on the same F1-Trac traction control system used on the long and massive Ferrari 599GTB. To curb his impulses, it has four ventilated Brembo ceramic brakes, ultra powerful.
The interior whose design and especially design remain exclusive to this model. The car can only accommodate two passengers can avail of the 'forbidden pleasures', generally awarded to said exotic cars. Finishing and presentation are scratched Ferrari and it is very reassuring for the regulars of luxury sports cars. Finally, I can not ignore the presence of a new dashboard using a CRT screen henceforth, to allow multimedia technologies to take their rightful place.
The official unveiling of the Ferrari California is planned in September in the upcoming Paris Motor Show in Paris. Until then, we should gradually receive flanges information on developments made to this last, here was the unveiling.