Environment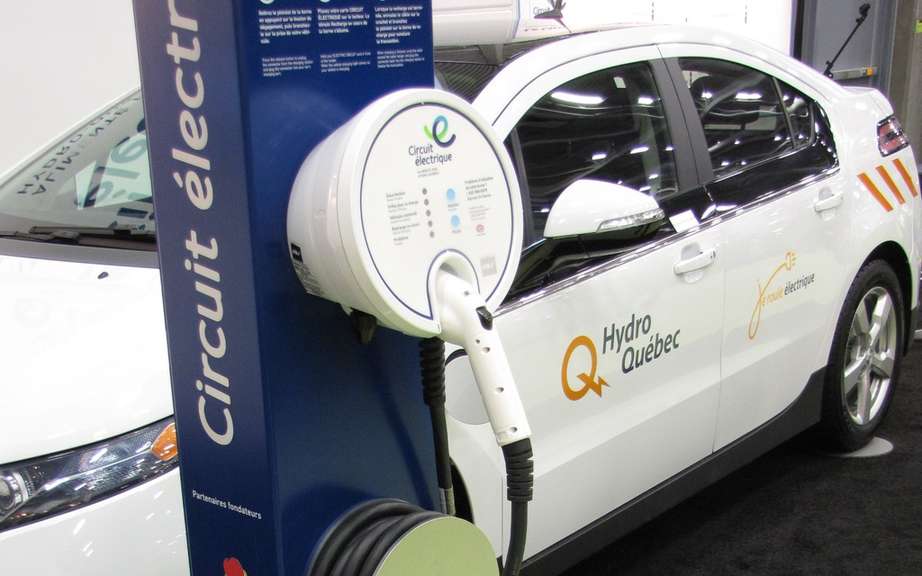 The electric circuit think vacationers who own an electric vehicle
Environment
The electric circuit has moved Drummondville
The founding partners of Electric Circuit - The Rotisseries St-Hubert, RONA, METRO, the Metropolitan Transportation Agency (AMT) and Hydro-Quebec - are pleased to announce the first phase of the network deployment in eastern Quebec, which give access to a range of substantial recharge in the Bas-Saint-Laurent. First nine charging stations installed along the main roads of the region, such as Highway 132 and Highway 185, will allow owners of electric vehicles (EVs) to drive with peace of mind in the territory, knowing that they can in case of need, fill a clean, renewable energy is one of the terminals of the electrical circuit. In addition, one of the founding partners, The Rotisseries St-Hubert, add two terminals to the network.
"This news has been greeted with great enthusiasm and it is with pleasure that the City of Rimouski has acceded to this expansion project, stated the mayor of Rimouski, Eric Forest. The electric vehicles are called to be more present on our roads and the fact of being able to offer a place to recharge Rimouski is anchored directly into a principle of paramount importance to Rimouskoises and Rimouski, the of sustainable development. This deployment of electric circuit in our area also represents an added value for citizens of Rimouski, visitors and tourists around who chose this mode of ecological transportation, they can refuel energy - for their vehicle as for themselves! - During their visit to downtown Rimouski. "
"The electric circuit is installed in the Bas-Saint-Laurent and we are delighted to invite Quebecois to visit our rotisseries Rimouski and Riviere-du-loup to take a stop time while enjoying the time to recharge their car, either during their regular trips or summer vacations. "Said Richard Scofield, Vice President, Restore, Rotisseries St-Hubert.
"The installation of several electrical terminals in eastern Quebec will undoubtedly small boost necessary to all those who wished to acquire an electric vehicle, but expected to have access to the electrical terminals before moving to the action. City congratulated all these initiatives electric circuit that can grow and extend the offer will assuredly welcomed by drivers of electric vehicles, "says Jacques Minville a Councillor of the City of Riviere-du-Loup .
"We are proud to take part in this demarche allowing a population of Trois-Pistoles and passing tourists to enter a terminal for charging electric vehicles. Trois-Pistoles is positioning itself for sustainable development, in accordance with its values! "Stated Jean-Pierre Rioux, Mayor of Trois-Pistoles.
"All the tourists and day trippers who come to recharge the spirit by visiting our gardens during this time can recharge their electric vehicle to continue their discovery of our area and its attractions. In recent years, we are working to become the greenest garden in North America. Here is another step in that direction, "said Alexander Reford, director of Metis Gardens.
"We are proud to participate in the electrification of transport with a terminal of the electrical circuit. This joins our corporate vision has integrated social vocation and in our sustainable development initiatives. This is great news to see the offer recharge increase in the Bas-Saint-Laurent in collaboration with new partners, "precise Yann Daigneault, founding director of the Auberge Internationale Temiscouata.
"After Park Montmorency Falls, the Aquarium du Quebec, the Duchesnay resort and national parks Iles-de-Boucherville, Oka and Mont-Saint-Bruno, National Park Lake Temiscouata is very happy to integrate the electric circuit. Facilitating the access of electric vehicles has its institutions, and the Sepaq is in perfect consistency with its mission, "stated Denis Ouellet, Director of the National Park Lake Temiscouata.
"The development of our network in eastern Quebec was a priority for us this year. We welcome the enthusiasm and cooperation of many partners Bas-Saint-Laurent who decided to join the electric circuit, allowing to endow this great region now public charging stations, has said Pierre-Luc Desgagne, Vice- President - Public Affairs and Government Hydro-Quebec, on behalf of the partners of electric circuit. In addition to meet the specific needs of the Bas-Saint-Laurent residents who possess a vehicle propelled to electricity, the supply of recharge promote a more ecological way of economic and transportation for visitors who come from the outside. "
The supply of public charging soon available in the Bas-Saint-Laurent in a large network
The supply of public charging electric circuit in the Bas-Saint-Laurent is called gradually grow at the pace of arrival of EVs in the region, and in the interest of potential partners and private institutions. Initial partners include:
The Rotisseries St-Hubert: A terminal has the rotisserie Rimouski, 395 boul. Arthur-Buies East, Rimouski, and a terminal has the rotisserie Riviere-du-Loup, 80 boul. Cartier, Riviere-du-Loup
Town of Riviere-du-Loup has a terminal City Hall, 65, rue de l'Hotel de Ville, Riviere-du-Loup
Rimouski: a terminal at Tourist Information Office, 50 rue Saint-Germain Ouest Rimouski
Trois-Pistoles has a terminal Arena Bertrand-Lepage, 104 Roy Street, Trois-Pistoles
Jardins de Metis: a terminal, 200 Route 132, Grand-Metis
Sepaq two terminals National Park Lake Temiscouata, 400 Old Road, Squatec
Auberge Internationale Temiscouata: a terminal, 788 Commercial Street North, Temiscouata-sur-le-Lac
Recall that the terminal of the Auberge Internationale Temiscouata, the first partner in eastern Quebec, is in service since last December when the City of Riviere-du-Loup will be inaugurated after this afternoon. The gradual introduction of other terminals will be ended by the fall.
The Electric Circuit
The electric circuit remains a major initiative in the deployment of the charging infrastructure needed to support the arrival of electric vehicles and rechargeable Quebec.
The electric circuit now includes more than 160 charging stations at 240 volts service including parking AMT and several RONA hardware stores, grocery stores and rotisseries Metro St-Hubert in Quebec. Since its inauguration in March 2012, 42 private and institutional partners have joined the electric circuit. Its expansion will continue so that it provides greater geographical coverage and desserve a greater number of EV drivers in several regions of Quebec.
Much needs recharging electric vehicle owners is filled at home or at work. Public charging infrastructure allows motorists to drive with peace of mind by offering them the opportunity to refuel on the way when necessary. Users of electric circuit beneficient a telephone helpline operates 24 hours on 24 and managed by CAA-Quebec and a locator service terminals. The Electric Circuit Web site www.lecircuitelectrique.com is updated as and as new terminals are brought into service or deployed.
SOURCE: Electric Circuit