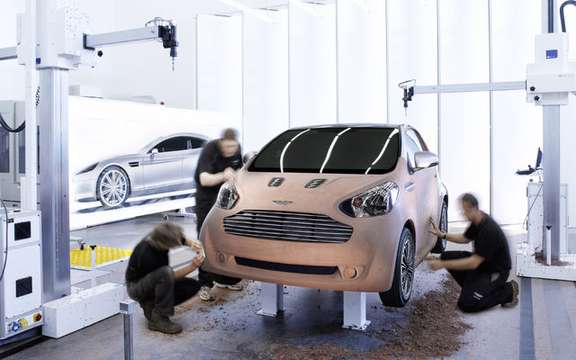 Aston Martin Cygnet Concept, to broaden their horizons
In June, we told you about the intentions of the prestigious British brand Aston Martin to develop in partnership with Toyota, a small city car based on the iQ Lilliputian.
Obviously, this little mask concept equivalent to that of the Smart, would inherit the fantastic Aston Martin grille, which I personally considered as one of the finest in the automotive industry.
To this day, apart from a photo emitted by the manufacturer, communicates very summary that accompanied it, and the words of the head of brand development, Dr. Ulrich Bez, just let us believe that this concept car could become One day a reality.
It is of course a very intelligent way from the manufacturer of high-performance, low economic and that cost very dear in environmental penalties, radically diminish its batting average, has this chapter. In addition to expanding access to the brand.
The reality will exceed fiction
Today, it is back with three more explicit pictures, including one inside the Cygnet Concept.
This allows us to discover that the outside of the Cygnet Concept will receive aesthetic devices that Earmark him a much more aggressive than that accorded to the Toyota iQ look.
This time, we also have a right to the inside of the malignant p'tite. In this chapter, we go literally from entry-level to very high end. The Cygnet uses and has like other branded car brand Gaydon, collections, fabrics and leathers that have always been the fame of this brand the most prestigious.
The board reorganized board can now accommodate audio-video technologies among the most sophisticated of the time, including a navigation system level very high.
The bad news
This little wonder will first and foremost offered to the clientele of the brand Aston Martin eager to slip behind the wheel of a little ingenious. According to information received, everything suggests that the model of series to be offered a very limited circulation, at least in its infancy, could sell for a starting price that would exceed 25 000 euros, or nearly $ 40,000 CDN.
The race was the small city car luxury is indeed part. After Mercedes-Benz already offers its Smart micro, here Aston Martin seems to be interested in this niche, whereas manufacturers Audi and BMW are studying too, the opportunity to market such a car.