Audi A1 Quattro Limited only 333 copies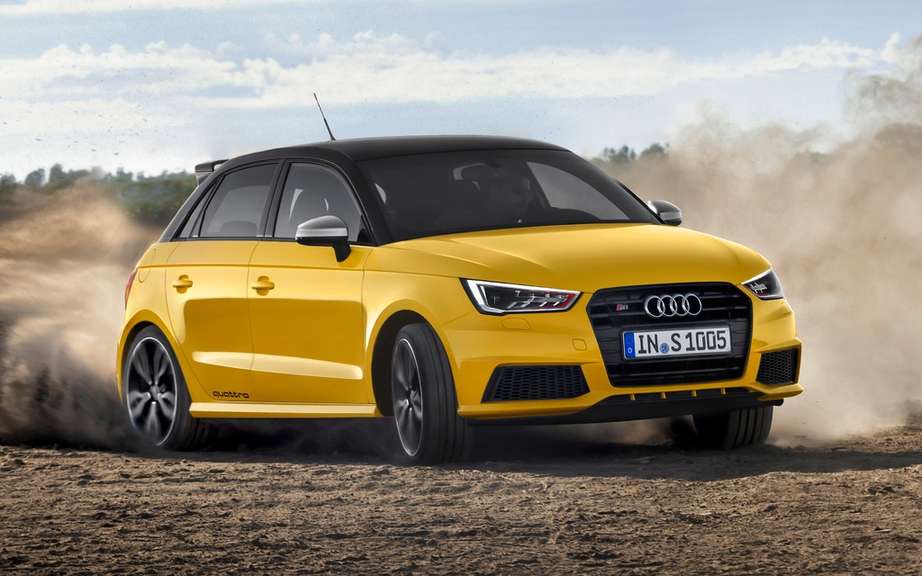 Geneva: Audi unveils its S1 and S1 Sportback 2014
In the 80 years, the stunning Audi Quattro Sport was undisputed world champion rally. And it is not uncommon to see Audi remember this belle epoque by presenting us with concepts or models evocative of the glorious history of the brand with the rings.
Thus, last year the manufacturer had presented at the Paris Motor Show Paris his Audi Quattro concept and today we recurrence with the unveiling of the internet model Audi A1 Quattro.
The small Audi A1 Quattro
Here it is not a concept but a model of series that will be produced only 333 copies. It will be offered in one color body or in Glacier White Metallic whose roof is black.
This sports car was developed based on the Audi A1 small cut receives a front section extremely aggressive, especially at his shield. The famous grille type "Single Frame" Audi is black and certainly more expressive. The headlights are adaptive and crowns a band LED lights. There are also less discrete and more efficient rear deflector.
Therefore an interior
At Audi, the sporty cars declination beneficient generally a interior with matching covers are black, here and there, of aluminum buttons, especially at the pedals, and this car complies with the will.
To this, add the enveloping sports seats and a leather covered "Silk Nappa" ambient lighting system has diodes and info-MMI navigation.
Therefore a motor
With a little face as aggressive, very pretty Audi A1 Quattro must have a consistent drive. Thus, it receives the tireless and powerful four-cylinder turbocharged 2.0-liter TFSI, for instance, announced a 256 horsepower and a torque of 258 lb-ft. An engine that is also found under the hood of the Audi TTS. Only a six-speed manual transmission is attributed to him.
You'll also guess that the car will be offered excellent traction integrale "Quattro" has exclusive Audi.
Audi A1 Quattro will be available on European markets in the second half of 2012.