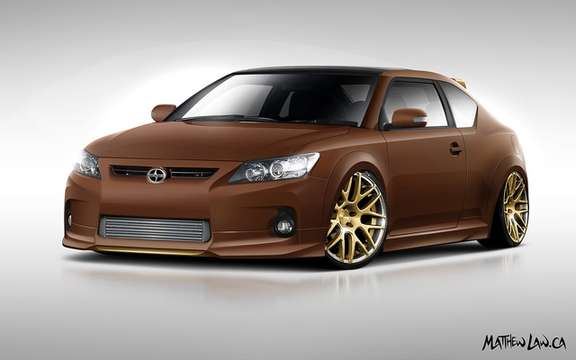 Scion Tuner Challenge 2011: Visiting the Auto Show at Georgian College
- Three teams and three cars selected
Scion enthusiasts can follow the progress of each team and participate in a competition to win a stay at SEMA Las Vegas by visiting www.tunerchallenge.ca
To launch the first "Tuner Challenge" Canada at the beginning of this year, Scion announced a competition inviting all lovers of customization to submit their original creations for customizing a vehicle Scion 2011. Three Canadian regional teams were selected from all participants for the next phase of the competition. In the coming months, these three teams will call all their creative talents to modify a 2011 Scion vehicle combining elegance, performance and originality.
The three teams will have received a new 2011 Scion - a tC, xB or xD one - the sum of $ 10,000, and unlimited access to authorized Scion accessories catalog and Toyota Racing Development (TRD) to perform their changes. They have three months to create their Personalized car. They then presenting their work at Importfest show - first in Toronto, August 27, then Montreal, October 1, before a jury shall appoint the team who created the best Scion vehicle changes.
The winning car will be sent in early November to the largest exhibition of specialized automotive products in the world, the SEMA (Specialty Equipment Market Association) in Las Vegas. The winning team also receive the sum of $ 5,000.
The three finalist teams, selected by a jury based on several criteria, including the general creativity and complexity of design, originality and passion for customization are:
SR Auto Group (Richmond, BC)
Specialized in customizing luxury cars for over a decade, this team of eight members under the direction of Tony Yuen customize a Scion xB. Their project - entitled "Anarchy" - is based on a minimalist gait and military influence. Outside, the vehicle features a body kit and a spoiler DL Style B-Magic, as well as wheels Modulare M23 19-inch and a host of customized finishing details, such as nuts blue wheels "Eccentric" was painted hand. On the inside, the interior is completely covered in black suede is highlighted by a blue LED lighting accents and a television monitor has 32-inch LED. Performance rating, changes rely heavily TRD accessories: kit oversized brakes, stiffening bar turrets, stabilizer bar, exhaust system and supercharger.
Camo Customs (Lachine, QC)
The tandem of Shawn O'Donnell and Benoit St-Cyr work on a Scion xD. Assets on stage customization since a decade, the two comperes were inspired by the notion of "wild mild", with the goal of creating a car that is both a "dazzling" and practice driving in urban areas. Their green candy xD receive a body kit, spoiler, exhaust and an air intake TRD, as well as interior and exterior lighting customizes and a multimedia center rises dashboard including a subwoofer installed in a custom enclosure.
TDS Team (Toronto, ON)
Under the direction of Arthur Chiang, this team has seven members who will customize a Scion tC. Inspired by the theme of "love chocolate" Team TDS bring a series oriented changes to the care of detail, engine compartment beautifully developed, the piece of superior quality, style and an original branch, all in a Scion tC with dark brown and gold colors. Among the main changes to the team, note fender flares, a rear diffuser, an exhaust system adopts a tip or powder, a rear spoiler, a turbo system and custom floor mats realized. The entertainment system includes mobile video screens, a unit of playback, speakers, amps and subwoofer speakers.
"The three vehicles are unique and incredibly original. We are confident that the team will be crowned champion will stand at SEMA this year, highlighting his exceptional talent on the world stage, "stated Larry Hutchinson, Director of Scion in Canada. "These finalists have demonstrated the true nature of Scion as individual expression of style and performance on four wheels. With the upcoming availability of 16 new authorized Scion accessories and parts TRD performance in Canada this spring, the owners of Scion, or they may be, can also customize their vehicle. "
Scion enthusiasts can follow the progress of the three teams in the coming months by visiting a new website created exclusively for the contest - www.tunerchallenge.ca. This site will contain photos and information about the background of the finalists for Canadians interested to follow the creative process in detail.
Visit www.tunerchallenge.ca to participate in a raffle to attend the 2011 SEMA as prompt Scion Canada. The lucky winner will receive a trip for two to Las Vegas, including exclusive access to the festivities Scion invitation. Those wishing to become fans Scion and have the chance to participate in other competitions and receive other gifts can go to facebook.com / scioncanada.
View the gallery