First contacts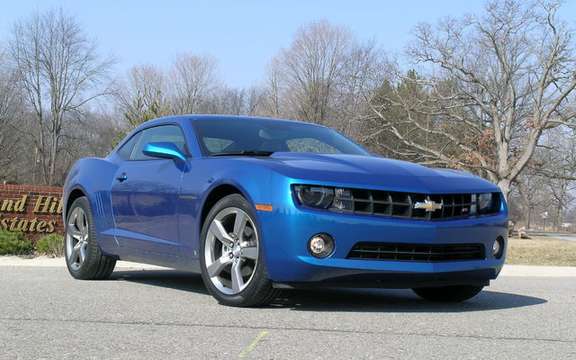 2010 Chevrolet Camaro, birth and rebirth of a sport coupe!
Pirelli Tire North America will provide GM has all tires 19, 20 and 21 inches from the all-new Chevrolet Camaro, has produced the Oshawa plant in Ontario. The Camaro will be built in three versions: LS, LT and SS.
The exclusive tire mounted in series on the model LT 300 horsepower will be the new Pirelli P Zero Nero All Season P245/50ZR19XL 104W. The P Zero Nero all seasons has been designed to provide an ultra-high performance adhesion in any season with today's powerful sports cars. Pirelli is the exclusive provider of the most successful versions of the Camaro and has worked closely with GM to offer new Camaro has an excellent motor skills and excellent handling. SS 422 hp is fitted P Zero has 245/45ZR20XL 103Y and 106Y front 275/40ZR20XL at the back. Chevrolet and Pirelli also offer an optional set of tires 21 inches, available from the dealer to replace the P Zero series, the 100Y 245/40ZR21XL at the front and at the back 275/35ZR21XL 103Y.
"Pirelli is proud to be the supplier of tires set of the new 2010 Chevrolet Camaro - one of the most iconic muscle cars and most revered ever built," said Anthony Paulozza, marketing director of Pirelli Tyre. "The new Camaro breathes fire - the LS and LT models, and up to the incredible SS LS3 engine with 422 horsepower. The design and realization of these cars are absolutely stunning and, in addition, they are even built here in Canada. It is an honor to see his Pirelli ultra-high performance tires put on the Camaro.
Pirelli Tire North America designs, develops, manufactures and markets tires for passenger cars, as well as serial replacement. It also markets and distributes tires for motorcycles and tires for motorized sports. Located in Rome, Georgia, the system modular integrated robotized MIRS (Modular Integrated Robotized System for) Pirelli uses the latest in technology matter for the manufacture of tires destined for export as domestic markets.