First contacts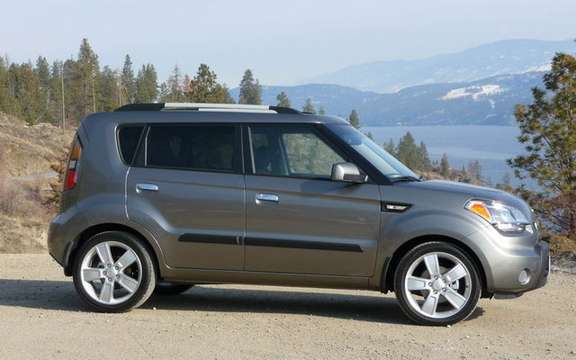 Kia Soul 2009, the new darling of the market
Kia Canada Inc., maker of quality vehicles for the young at heart, today announces pricing for its new vehicle mutisegment for the city, the 2010 Kia Soul, which goes on sale this month. The basic model, available from $ 15,495, the retail price suggested by the manufacturer (MSRP) is equipped with a four-cylinder 1.6-liter that develops 122 horsepower and a five-speed manual transmission ; manual air conditioning is available. Standard features include six airbags; ice and has electric control locks and heated mirrors; an AM/FM/CD/MP3 sound system with auxiliary input and USB, Bluetooth hands-free connectivity port; audio controls on the steering wheel; heated seats and much more.            
Soul 2u adopts a four-cylinder 2-liter engine developping 142 horsepower. Offered a $ 17,995 (MSRP), the Soul 2u a manual transmission is equipped with alloy wheels 16-inch disc brakes to all four wheels, an anti-lock braking system (ABS), an electronic system stability, tinted ice from roof rails, a cruise control, seats covered in fabric patterned "Soul", remote keyless entry, an individual alarm and air conditioning. It is also available with 4-speed automatic transmission and an armrest in addition to the driver's seat.           
Offered a $ 19,995 (MSRP), the version of Soul 4u is characterized by alloy wheels 18-inch steering wheel and gear shift knob leather sheaths, trim interieures the metallized finish, electric sunroof, the fog lights, a sound system of quality including a center speaker, a subwoofer and external amplifier, Sirius ® Satellite Radio with 3 months free subscription, and a sports suspension. Soul 4u is also endowed with a lighting atmosphere. The two speakers in the front doors origin are surrounded by an LED ring that produces a red lighting; a fixed switch on the dashboard allows to adjust so that it is constant or its intensity and its duration change the rhythm of the sounds and music from the audio system.
A little more expensive, Soul 4u Retro version that demarque by thematic interior in beige and black dashboard and doors, and the reason foot-holes of seats is offered a $ 20,695 (MSRP) with manual transmission.            
Offered at an MSRP of $ 20,995 with manual or automatic transmission, the high-end version, the Soul 4u Burner, whose interior trim takes the black and red on the dashboard and doors, is characterized by its architecture back allowing enlarged vision, black and red pattern "Burner" Seat, his eyelids flashing front and rear deflector.
The suggested retail price by the manufacturer for all models of the Soul are:
$ 15,495 - Soul 1.6L (5 speed manual transmission)
$ 16,495 - Soul 1.6L (5 speed manual transmission with AC)
$ 17,995 - Soul 2u 2 L (5-speed manual transmission)
$ 19,195 - Soul 2.The 2u (automatic transmission 5-speed)
$ 19,995 - Soul 2 4u (5-speed manual transmission)
$ 21,195 - Soul 2 4u (automatic transmission has 4 reports)
$ 20,695 - 2 Soul 4u Retro (5-speed manual transmission)
$ 21,895 - 2 Soul 4u Retro (4-speed automatic transmission)
$ 20,995 - 2 Soul 4u Burner (5-speed manual transmission)
$ 22,195 - 2 Soul 4u Burner (4-speed automatic transmission)