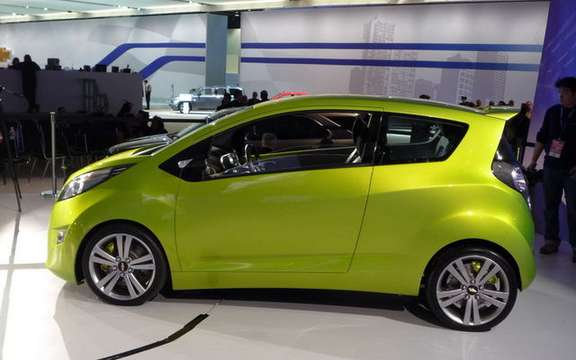 Chevrolet Beat, Spark, one chosen by the public
At the Auto Show in New York in 2007, General Motors, had submitted three small economic cars, Chevrolet Beat (Cup three doors), Groove (Hatchback 5p) and Trax (Crossover). Of these three cars, the Beat model had been by far the preferred declination visitors. Furthermore, she had taken advantage of a global media coverage, as speculations concerning its manufacture, filled the pages of many websites.
Today, we learn from the mouth of the big boss of the american branch of GM, Troy Clarke that this little car will indeed be built and it will be called Spark. A name already spread on some Asian markets, with the complicity of the South Korean branch of the manufacturer. For example, in European markets this car will come next year to replace the Chevrolet Matiz, also due for a major overhaul.
Here in America, we have to wait an extra year before we see this little car template of a Toyota Yaris, drive on our roads. The Chevrolet Spark was unveiled in Detroit we was a five-door model.
However, its global launch will be held next March in the International Motor Show in Geneva. At this time, we know more about its various declinations and different engines offered. It also means that the current Chevrolet Aveo / Pontiac G3 Wave could leave their place for this model, planned for a North-American market in 2011 ...