First contacts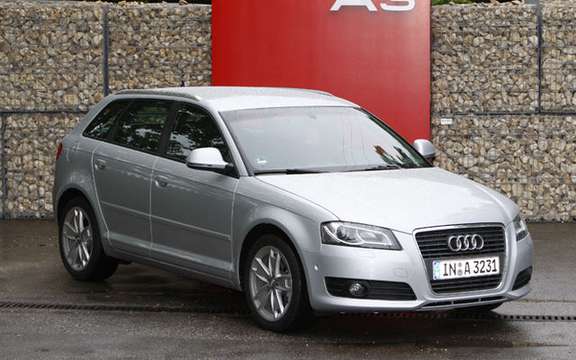 Audi A3 2009, what face!
The last Motor Show in Geneva, Audi has unveiled a monster coronation of 'dieselization', the R8 TDI LeMans Concept. It honors the success of the brand with the four rings racing, including the 24 Hours of Le Mans. It features a lightning engine 6.0-liter V12 TDI common rail direct injection, without forgetting its twin-turbocharged, whose power reaches 500 horsepower, in addition to offering an impressive torque of 737 lb-ft. This engine is both powerful, economic or even ecological already responds to the European standards in matters of pollution, which come into force in 2014, which is saying something.
TDI, three letters of nobility
Audi dominates the 24 Hours of Le Mans and in the image of Ferrari dominates in Formula 1. Between 2000 and 2005 Audi has imposed the 24 Hours of Le Mans no setback with his indestructible R8. Since then, they continue to demonstrate their supremacy, but this time with their amazing R10 V12 TDI engine has twin turbo compression developping a power of 650 horses.
This year, the manufacturer largely sees global media coverage with the launch of its very seductive and powerful Audi R8.
The A3 gets the part
Today, the Ingolstadt manufacturer recurrence in almost prematurely spotlighting a new concept TDI engine, the Audi A3 TDI Clubsport Quattro. The latter we demonstrated once again, know-how in the manufacturing concept for its TDI engines.
Its very aggressive manners, especially at its front section, which typically want Audi, associated to a painted body type rally confer him the silhouette of a car who wants to see ... Under his forehead beef, is a powerful four-cylinder 2.0-liter TDI with an output of 224 horsepower and a couple of very tough 332 lb-ft, a specialty manufacturers associated Volkswagen and Audi. Rating performance, the manufacturer announced that this concept can reach 100 km / h in just 6.6 seconds and its top speed is 240 km / h.
With such aesthetic, mechanical and technological attributes, the Audi A3 TDI Clubsport Quattro Concept announce it for Audi to launch in Rally mode to demonstrate once again the excellence of its TDI engines, updates in competition ...
Although viennne just been unveiled by the manufacturer, the Audi A3 TDI Clubsport strange Quattro Concept will be presented for the first time in public, in the framework of the 27th edition of the Annual Lake Worther Tour scheduled for late May 2008 in the Australian province of Carinthia.