First contacts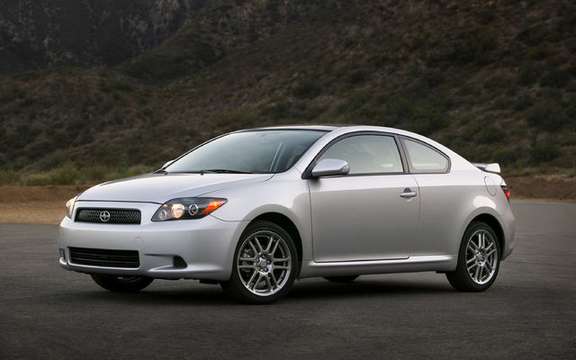 Scion tC 2008, improvises a test
Toyota Canada Inc. will present a destiny brand for youth 2010. Add it your personal touch. Express yourself. Make your vehicle has your picture. SCION, the car brand "adventurer city" that strengthens ties between "car" and "community" will be available in Canada in 2010.
"Young Canadians have told us they want SCION, and now their desire is almost to realize. SCION is an authentic brand that has been created to please the tastes and sensibilities of young people, and we are pleased to broaden our presence in the Canadian market with new vehicles that offer a unique blend of versatility, customization, affordability and energy efficiency, "explained Larry Hutchinson, Director of Toyota Canada Inc." The time is right to bring SCION culture in Canada. "
Launched in the U.S. in 2003 SCION attracted new customers to the Toyota family. SCION has changed the shopping experience allowing visitors to view, explore, search or simply discover SCION at their own pace thanks to local events and a highly interactive website and constantly changing. What visitors are discovering is a unique range of vehicles offering a high level of personal expression products that meet their lifestyle offered with a full equipment plus an unheard of opportunity for customization through the intermediary of accessories original after-sale style.
"SCION is a unique brand, yet still a member of the Toyota family she enjoys such high standards as our Toyota and Lexus lines," said Mr. Hutchinson continued, noting that in the United States, about 70 percent SCION buyers are new to Toyota, and more than 50 percent of SCION owners opt for a Toyota vehicle as their needs and desires evolve. "So, SCION will represent an important avenue through which we can reach new drivers - which represent the most significant future growth in the market - and give them the opportunity to experience the reputation of Toyota matter of quality, fuel efficiency, safety and value. "
SCION will be launched in Canada with three vehicles:
SCION tC compact sport coupe that combines style and driving pleasure in a hatchback model has five seats, and adopts a panoramic sunroof remarkable SCION xD, which integrates a high level of personality in a subcompact hatchback has five places; SCION xB, a compact hatchback model has five doors which offers astounding spaciousness in a cubic shape that suits the urban adventure
All models are well equipped SCION and include a full range of features, including air conditioning and cruise control as well as high-tech audio systems with sound processor SCION.
Accessories and options can be added a la carte model SCION everything, whether it's wheels, gear levers and pedals unique sport or satellite radio systems and a wide range of accessories TRD performance (Toyota Racing Development). The security system of all vehicles SCION includes front airbags two stages, cushions lateral seat-mounted front side curtain airbags in the front and the back and abdominal belts and shoulder pads has three points for all occupants.
SCION will be established at Toyota dealers SELECTED, using the concept of "store within a store" and will be launch in stages. Watch his arrival in Montreal, Toronto and Vancouver in 2010, followed by several other Canadian urban centers. For more information on SCION, Canadians can visit www.scionnation.ca.