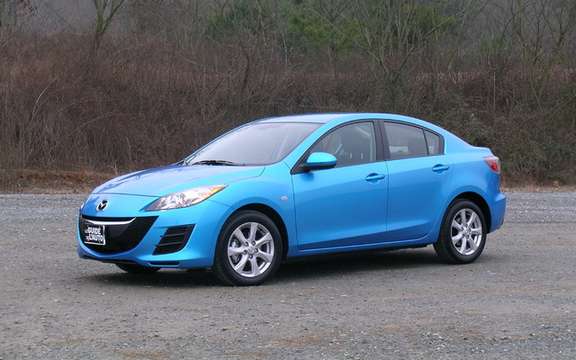 AJAC announces top vehicles in 2010!
Our good friends columnists Car Guide, and members of the Automobile Journalists Association of Canada (AJAC), Denis Duquet, Marc Lachapelle, Alain Morin and Sylvain Raymond, is found this week in Niagara-on-the-Lake Ontario to stuff one week full track testing and related activities, in order to determine that it will be the best car or the best truck available in Canada for 2010.
In total, more than sixty journalists across the country, which will evaluate a more than 50 cars or vehicles that will compete for the title of best choice in each of the 12 preset categories.
In addition, will add the title of the best technology, the best green technology and finally the best design.
This is at the very end of this laborious exercise, we will be announced The names of the best cars or vehicles in each of the categories.
However, it will wait until January 14, as part of the auto show in Montreal that we be revealed green technology of the year. Follow, Feb. 11 at Auto Show in Toronto, the winners of better technology and better design.
The most coveted title, are those of the car and truck of the year, will also be announced in Toronto. It is important to specify that appraisers for the term 'truck' is intended to both vehicles such crossovers, SUVs and trucks.
See the day 1 video:
http://www.youtube.com/watch?v=VtJvIKg3XKc
Here by category, the list of cars and vehicles that will compete
Small Car Under $ 18,000
Hyundai Elantra Touring
Kia Forte Koup
Mazda3
Small Car over $ 18,000
Honda Insight *
Kia Forte
Kia Soul
Mazda3 Sport
Mitsubishi Lancer Sportback
Nissan Cube
Volkswagen Golf
Family car between $ 22,000 and $ 30,000
Ford Fusion
Subaru Legacy Sedan
Toyota Prius *
Volkswagen Golf family
Family Car over $ 30,000
Buick LaCrosse
Ford Fusion Hybrid *
Ford Taurus
Luxury Car over $ 50,000
BMW 335d Sedan *
Cadillac CTS Sport Wagon
Lexus HS250h *
Mercedes-Benz E-Class Sedan
Prestige Car over $ 75,000
Audi R8 5.2 FSI
BMW 7 Series Sedan
Mercedes-Benz S400 Hybrid *
Porsche Panamera
Performance sports car under $ 50,000
Chevrolet Camaro
Ford Taurus SHO
Hyundai Genesis Coupe
Mazdaspeed3
Mitsubishi Lancer Sportback Ralliart
Volkswagen Golf GTI
Performance sports car over $ 50,000
Audi S4
Jaguar XFR
Mercedes-Benz E-Class Coupe
Convertible car
Audi A5 Cabriolet
BMW Z4 Roadster
Lexus IS Convertible
Nissan 370Z Roadster
Sport and crossover utility under $ 35,000
Chevrolet Equinox
Subaru Outback
Toyota Venza
Sport utility crossover between $ 35,000 and $ 60,000
Acura ZDX
Audi Q5
GMC Terrain
Lexus RX350
Mercedes-Benz GLK350 4MATIC
Volkswagen Touareg TDI *
Volvo XC60
Sport and CUV over $ 60,000 utility
Acura MDX
Audi Q7
Cadillac SRX
Lexus RX450h *
Lincoln MKT
The best technology
Attention Assist
Audi Drive Select
City Safety
MyKey
Remote Touch
Touch Tracer
The best green technology
Beltless Atkinson-Cycle Engine with Cooled Exhaust
Next Generation Hybrid System and SmartGauge
Plant-based Ecological Plastics
S400 Hybrid with Lithium-ion Batteries
Solar Panel Moonroof & Remote Air Conditioning
The best win!