Tests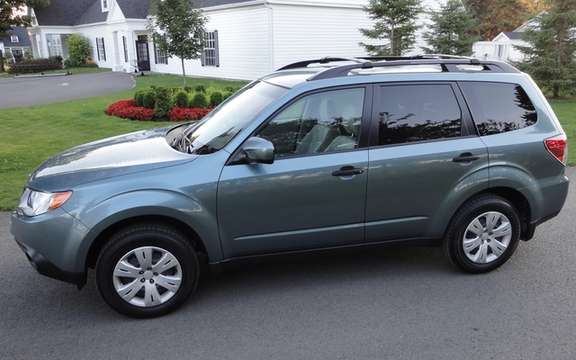 Subaru Forester Outdoor 2010: he loves the outdoors!
Subaru is currently one of the few automakers enjoy increased soil North American sales, particularly thanks to its all new compact SUV, the Forester completely renewed, which is currently experiencing great popularity.
In addition, it comes again to obtain excellent results, in terms of safety tests conducted by the IIHS. Moreover, here is an excerpt from the press release issued by Subaru Canada Inc. convernant these tests to safely
-------------------------------------------------------------------------------------
Subaru Forester gets a higher rating in the most recent tests to safely IIHS
Subaru Canada, Inc. (SCI) is pleased to announce that the 2009 Forester is one of four small SUVs evaluated on the 12 who got the highest marks from the Insurance Institute for Highway Safety (IIHS) in its new tests rollover more severe.            
According to the IIHS, this new evaluation system is based on Institute research showing that in rollovers stronger roofs benefit the occupants. The vehicles have received the highest rating, "Good", the Institute must have a roof that is at least twice as strong as what is prone under minimum standards of security required by federal regulation in the United USA.            
"We anticipate that our roof strength test will result in better protection rollover of vehicles, in the same way that our assessment programs in frontal collisions shifted and lateral impacts have led to better protection in these types of accident, "said Adrian Lund was the president of the Institute.
On all models Subaru, the foundation for outstanding occupant protection is the monocoque structure has advanced ring-shaped reinforcement or curves that disperses the energy of the collision. According to this design, a series of rings are arranged around the carrier, thereby providing a good protection at a diversity of types of collision. Door beams, high strength steel and materials absorbing foam impact improve safety in case of lateral impact.            
Technologies as passive safety features include the system airbags (SRS) before tip Subaru, lateral airbags driver and front passenger seats are mounted in the lateral and curtain airbags. A rollover sensor deploy the curtain airbags if an impending rollover vehicle is detected.            
"Subaru is pleased, but not surprised-to have done so well during these most recent tests," argued Katsuhiro Yokoyama, president and CEO of SCI. "As pointed out Adrian Lund, Subaru was among the first manufacturers to obtain a perfect score in the frontal and lateral IIHS tests. Our commitment to design and build vehicles that meet the highest standards of safety active and passive is unconditional and the results of these independent tests are a reassuring confirmation of our own results. "            
The IIHS says that more than 10,000 people are killed each year in rollovers. When vehicles capotent their roof hits the ground, deformed and crushed. More robust roofs crush less, which reduces the risk that the occupants are injured during a contact with the roof itself.            
When testing resistance or robustness roof of the Institute, a metal plate is pushed against one side of the roof at a constant speed. To get a good rating, the roof must withstand a force equivalent to four times the weight of the vehicle before it crashed five inches (12.7 cm). Is determined and called the report resistance / weight. For an acceptable rating, a ratio of resistance / weight minimum of 3.25 is required. A ratio of 2.5 is low while any lower value 2.5 is mediocre.            
The IIHS added a roof evaluation of its overall criteria of appreciation of the security. Indeed, a good robustness of the roof will be henceforth a new requirement to be recognized as a Top Safety Pick in 2010. The 2009 Forester was named a Top Safety Pick by IIHS which gives it a rating of "Good" when testing frontal collisions, side and rear.