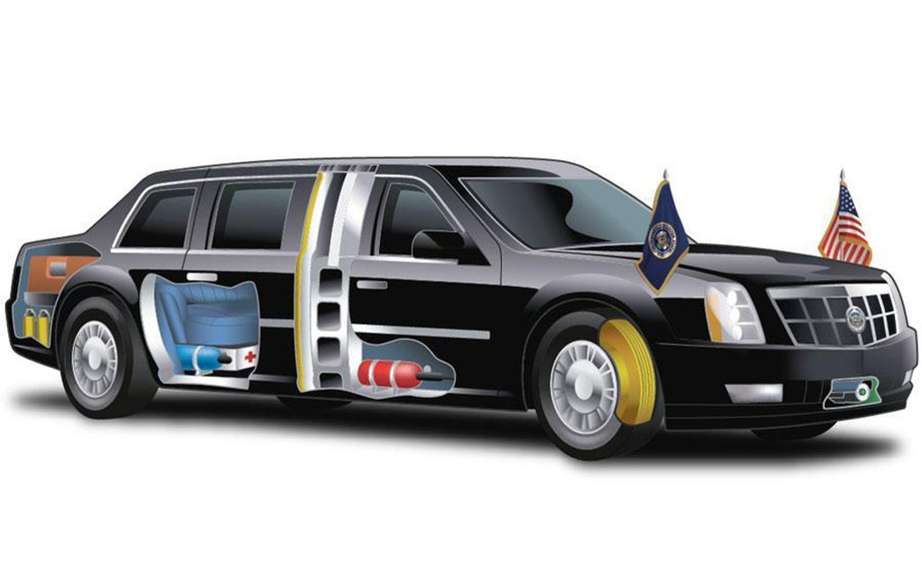 Limousine Barack consumes as much as a tank ...
Although still in the service of George W. Bush and until 20 January next year, the American presidential limousine still boasts the title of the safest vehicle on the planet, whose first mission is just to convey the man is said the most powerful of the earth.
Made entirely by hand
Its official name is DTS Presidential Limousine ', but many like to call it' Cadillac One 'in reference to the presidential plane Air Force One. The latter came in 2006 to replace the previous version dating from 2001.
This limousine out of the ordinary is the practice of the company O'Gara, Hess and Eisenhart, renowned specialists in the manufacture of armored vehicles for over forty years. It is from the chassis of a Cadillac DTS bare that they were able to realize this ultra armored vehicle, fully assembled by hand.
The Presidential Cadillac is obviously much longer, wider and more especially high relative to the size of the so-called Cadillac DTS series. Obviously, this is an imposing vehicle but seems relatively deformed in his extremities. Dressed all in black and this is the occasion, the parameters used in the painting remain a state secret and at the same way as the thicknesses of shielding used in its manufacture. Unlike the presidential limousine that used steps to give asylum to the designated secret agents protecting the President, the latter had put an end to this long tradition.
An interior almost kept secret
We know that the limousine can accommodate six passengers have individual seats more comfortable, reclining and possessing their own system audio / video. There are of course reserve the chair to the President, I imagine even more relaxing and faces has a multimedia console movable type, ultra securisee. It allows him to remain in direct contact with his family, senior advisors or his G8 counterparts or any other head of state. Space reserve driver is closed if not sealed and contacts with officials taking place in the section 'mobile office' are by telephone handsfree voice ...
Turn to Barack Obama
On 20 January this year, Barack Obama will officially become the 44th President of the United States. It will inherit the throes of the Bush administration and an economic crisis that continues to worsen as the months go by. 
He must put aside his Ford Escape Hybrid and take possession of 'Cadillac One'. Of all the problems he has to solve, there is one size and will possibly have inside of his first term, decide to change his presidential limousine, and this despite the crisis. Then you choose it to keep longer or change to a limousine service, greener ...