Frankfurt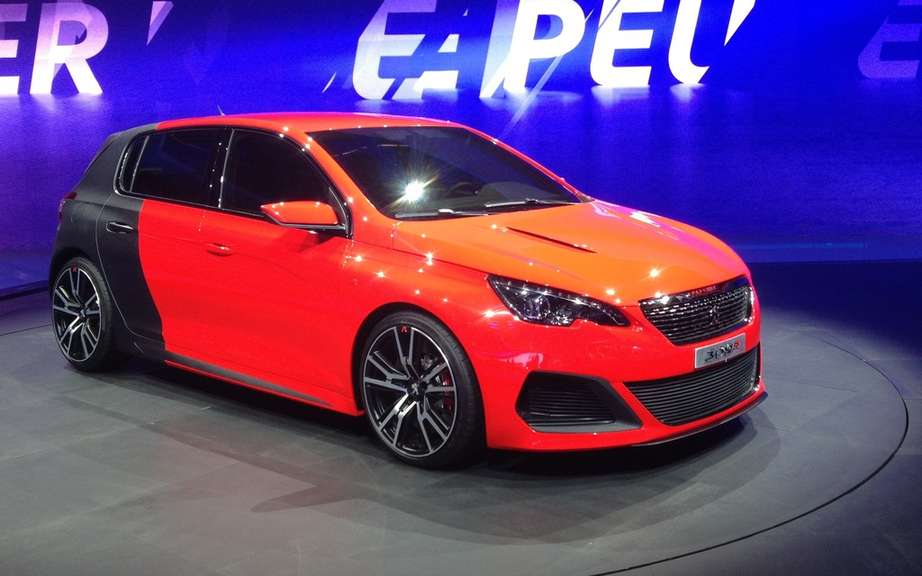 Peugeot 308R Concept, radical
The new Peugeot 308 is a sedan design epure Providing unpublished driving sensations thanks to icts efficient design and Peugeot i-Cockpit.
The efficiency of the department and drive the reduction of CO2 emissions.
As quality, efficiency is one of the highlights of the new Peugeot 308. Its compact dimensions and Its Reduced mass of 140 kg REDUCE icts environmental footprint.
First engines available at launch to meet the same emission reduction of CO2 with modern and technological Proposals, both, petrol and diesel 3 cylinder petrol VTi, THP block (Elected International Engine of the Year 2013) and e-HDi versions.
First 5 engines available at launch are: 1.2 liter VTi 82 bhp, 1.6 liter THP 125 bhp, 1.6 liter THP 156 bhp, 1.6 liter HDi 92 hp, 1.6 liter e-HDi 115 hp; with CO2 emissions from 93 g / km.
From spring 2014, the new Peugeot 308 Will Be endowed with new engines Including a new 3-cylinder petrol turbo (1.2 e-THP) and BlueHDi versions, naming Euro 6 diesel engines.
Combining exclusive way SCR (Selective Catalytic Reduction) and FAP additive, the technology can BlueHDi Drastically Reduce NOx - over 90% - optimize CO2 emissions, consumption and still Eliminate particles 99.9%.
One of the technologies BlueHDi reach less odd than 85 g / km CO2.
Finally, a 6-speed automatic transmissions are available new generation.
Technology for an active and relaxed driving
The new Peugeot 308 offers a dynamic experience in Particular thanks to live Peugeot i-Cockpit and new equipment to aid driving: Driver Assistance Pack (Cruise Control active, alert and automatic emergency braking collision) blind spot monitoring, reverse camera, electric park brake, handsfree access startup.
Source: Peugeot