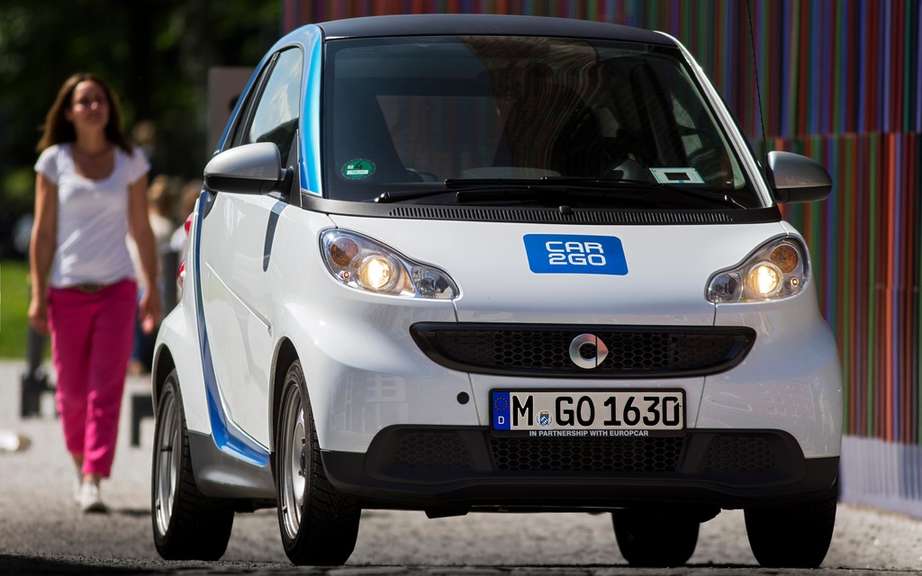 car2go car-sharing: a new form of self-service in Montreal
car2go reinforces Toronto's status as one of the most delightful cities of the planet. 250 smart fortwo vehicles will be at the disposal of members of carsharing network of 30 June The launch event planned for 1 July SCHOOL will be open to the public.
car2go Canada Ltd., 100% subsidiary of Daimler North America Corporation, will officially launch a new form of car-sharing in Toronto Saturday, June 30, making a large network of smart fortwo vehicles with low emissions accessible and affordable for those who live and working in Toronto, as well as those who visit this city.
"Car2go will redefine personal transportation in the city of Toronto by offering unparalleled service in terms of innovation and flexibility," stated Nicholas Cole, president and general manager of car2go Canada. "The members of car2go in Toronto will have unlimited access to a car, anywhere and anytime, thanks to our advanced carsharing technology. Today, people who adopt urban lifestyle wish to have options practices and economic transportation when they need it and where they need it. car2go offers this solution. "
The only alternative car2go carsharing model, when used in parallel to public transportation and carpooling and bicycle self-service, can substantially reduce the CO2 emissions and traffic congestion typically associated with urban areas densely populated as Toronto. In the long term, car2go will play an important role by strengthening Toronto's status as one of the most delightful cities of the planet. 
"We are delighted to celebrate the continued expansion of car2go in Canada following a resounding success at its launch in Vancouver," stated Tim A. Reuss, president and general director of Mercedes-Benz Canada. "The revolutionary approach in matters car2go carsharing is perfectly suited to the Canadian market, and the compact dimensions of the smart fortwo makes an ideal choice for travel in the congested streets of downtown. I am extremely pleased that this innovative program now offers Torontonians a transportation solution convenient and affordable, coupled with many advantages. "
"It is with great enthusiasm qu'Invest Toronto welcomes car2go in Toronto," said Renato Discenza, President and Director General of Invest Toronto. "Their investment is welcome and we look forward to see the network grow here. "
Network operational
Of Saturday, June 30, 250 car2go edition smart fortwo vehicles will be at the disposal of members of carsharing network. Anyone who registers to become a member of car2go will receive a membership card that will allow him to have access to any free car2go vehicle in Toronto and lead when they need it and as long as she wants, and , without having to return one hour or an accurate fixed place in advance.
Registration is open online Toronto.car2go.com. For a limited time, all new member using the promotional code TDOT will receive 30 minutes of free driving and will be free of subscription fees of $ 35 to pay once for all.
A new form of car sharing
car2go offers a new form of car sharing that allows members to enter 24 hours on 24 and 7 days 7, has a network of cars smart fortwo self-service. This program differs from traditional carsharing and car rental agencies, particularly in regard to these three aspects:
MINUTE: Members pay a minute, and only for the duration of actual use of the vehicle; they enjoy reduced rates for daily use or time. There is no minimum length of service - they need the car for ten minutes or for a whole day, members have which has lead to board and as long as they want without having to commit themselves to respect an hour or a specific place of return. Parking fees, maintenance and insurance, as well as costs incurred for fuel are included at no additional cost, and there are no annual fees or monthly fees.
ON DEMAND: Members can use the first free car2go vehicle they find, via a smart phone application, using locator car2go vehicles car2go.com by contacting the customer call center or simply tracking a vehicle free car2go. No booking is required because with car2go, members have unlimited access and unrestricted access to car2go vehicles round the clock, seven days a week
SELF-SERVICE: Members can take and return any car2go vehicle anywhere in the service area of ​​car2go in a parking area authorized Green P, Target Park or the University of Toronto. They can simply drive the car as long as they wish, park the vehicle in a designated parking areas and to terminate the tenancy by sliding the card into the reader integrated windshield. The car is then made available to any other member of carsharing network.
Launch Events
car2go will celebrate the launch of its car sharing program avant-garde in Toronto this weekend, and by organizing several public events across the city. The first event to launch car2go will be held at restaurant SCHOOL Sunday, July 1st and will be open to the public free of charge.
At each event, visitors will learn how car2go works, can register free and get 30 minutes free driving. They will also have the opportunity to win prizes. At the launch event of SCHOOL, food and free drinks will be served, and guests will have the chance to drive a car2go car.
You will find below some additional details regarding the events of launch:
Gay pride parade in Toronto
June 29, 2012, 18 am to 21 pm
From June 30 to July 1, 8 am to 20 pm
Church Street between Alexander Street and Wood
Free Membership Registration 30 minutes of free driving and the chance to win prizes
Jazz Festival
From 29 June to 1 July 2012, from 11 am to 23 pm
Nathan Phillips Square, just in front of the city hall of Toronto
Free Membership Registration 30 minutes of free driving and the chance to win prizes
Restaurant SCHOOL
July 1, 2012, from 9 am to 15 pm 30 30
In Liberty Village, at 70 Fraser Avenue, Toronto, ON, M6K 3E1
At this great event, food and free drinks will be served, and it will be possible to test drive vehicles car2go. Also on the program: free membership registration, 30 minutes of free driving and the chance to win prizes
For more information or to sign up and become a member of car2go, please visit toronto.car2go.com; you can also follow on twitter @ car2goToronto or become a (an) car2go fan on facebook.
About car2go
100% subsidiary of Daimler, car2go offers an innovative mobility solution that redefines individual transport in urban areas was strong, and, thanks to a network of hundreds of smart fortwo vehicles for rent ecological proposed. This network is an innovative mode of transport "on demand" just complement existing transit alternatives, which do not necessarily serve the itinerary of everyone.
The car2go carsharing service is currently operational in 11 cities: Austin (Texas), Vancouver (British Columbia), San Diego (California), Washington (DC), Portland (Oregon), Ulm (Germany), Hamburg (Germany) Amsterdam (Netherlands), Vienna (Austria), Dusseldorf (Germany) and Berlin (Germany). In November 2011, car2go has launched the largest carsharing network of electric vehicles in the world in the cities of San Diego (California) and Amsterdam (Netherlands), deploying 300 smart fortwo electric drive vehicles in each city car2go . In July 2012, will launch its car2go car-sharing service in the cities of Calgary and Miami. car2go now has more than 100,000 members around the world.
The innovative car2go rating and the emphasis that car sharing service on environmental protection have already earned him to be welcomed to the international scale. In February 2012, car2go was named "Best carsharing 2011" by the Vancouver Courier. In September 2010, car2go was awarded the 2010 Business rates in the region of Greater Austin ("2010 Greater Austin Business Award") by the Austin Chamber of Commerce for its positive impact on urban traffic. The same month, car2go received the "Clean Tech Media Award" in the "Mobility" category Berlin. In May 2010, the Environmental Protection Agency (EPA) of the United States as it has car2go attributed to the prestigious 2010 Excellence for Clean Air ("2010 Clean Air Excellence Award").
More information on car2go is available at www.car2go.com and www.media.daimler.com/ms/car2go/e.