car2go is preparing to develop its activities in Vancouver this spring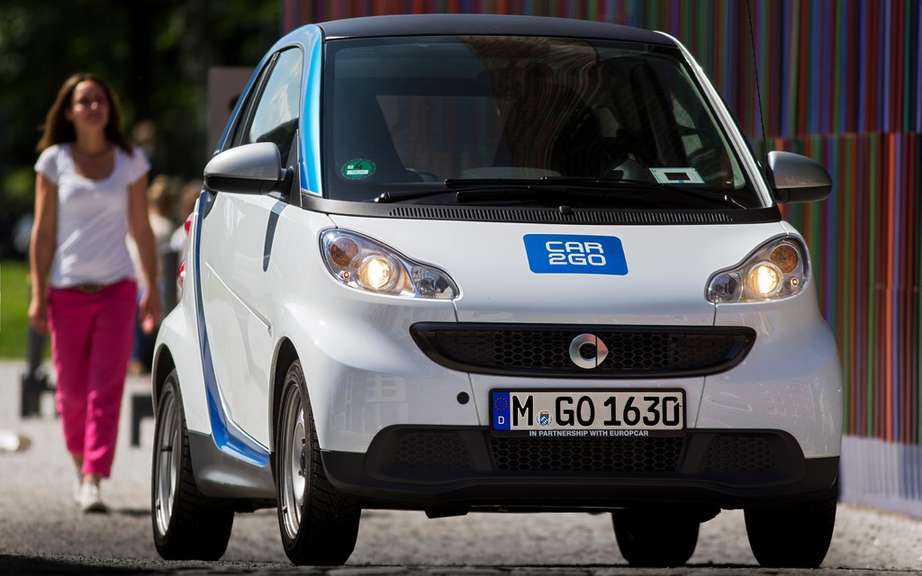 car2go car-sharing: a new form of self-service in Montreal
A larger network of cars, more parking and expanded service area provide added convenience and versatility to the community carsharing Vancouver
car2go Canada Ltd., 100% subsidiary of Daimler North America Corporation, announced that it intends to develop its activities in Vancouver, British Columbia, to meet the growing needs of its approximately 10,000 members. From mid-April, 100 car2go edition smart fortwo cars will be added to the network carsharing car2go, the car2go service area will be expanded and new car2go parking spaces will be available, including eight new places on the campus of the University of British Columbia.
"The car2go program is experiencing exponential growth in Vancouver," stated Nicholas Cole, president and general manager of car2go Canada Ltee. "In less than a year, we have built a network of over 10,000 members who share our 225 smart fortwo cars daily. This is a great achievement for car2go and in addition, it reflects the high level of awareness among residents of Vancouver solutions smarter urban transport and watch how the demand for this kind of transport solutions is strong here. "
Cole then adds: "We have taken into account the needs of our members and have the pleasure of introducing new cars to expand our service area and add new parking spaces to the network. This expansion will undoubtedly do benefit the community carsharing Vancouver a higher level of convenience and versatility. "
Expansion of car2go network
The car2go car sharing service has been launched in Vancouver in June 2011 with 225 cars, 2,000 members and an average of 1,500 trips per week. Today, there are over 10,000 members car2go in Vancouver and the number of trips per week passes over 8000. To answer the increasing use of vehicles, 100 other cars smart fortwo car2go edition will be added to the network in Vancouver and will be at the disposal of the members of April.
In addition, car2go will begin to put to the test, as a pilot project, several smart fortwo electric drive vehicles (EV) in the city of Vancouver to determine the potential development of carsharing electric cars in Vancouver.
The new service area car2go
From mid-April, the service area will be enlarged car2go: the new southern border becomes 49th Avenue and the boundary is be postponed until Renfrew. Members may take delivery of a car2go car and return it anywhere in this area of ​​70 square miles. To see the new car2go service area, please visit: car2govancouver.com/VancouverHomeArea.pdf
Car2go members still will not have to pay for parking the vehicle. Indeed, in parallel parking and other free parking spaces reserved for the network are available in many places specially indicated in the car2go service area; also places additional dedicated car2go parking network will soon be at the disposal of members. To view the complete list of designated car2go parking spaces, please visit: car2govancouver.com/VancouverDesignatedParking.pdf
Every car2go vehicle is now equipped with a GPS system that includes the parking spaces to the network from the interest points. Members simply to touch an icon on screen instructions to showing them the way to get a parking place designated nearest car2go.
In addition, car2go has chosen to team with the University of British Columbia to provide solutions more convenient parking for students. Parking spaces on street designated car2go will indeed be available in some areas of the campus of the university from April 1. Parking spaces will be located on campus, opposite the bus Nordschleife (Northern Loop Bus), and will accommodate up to eight car2go vehicles. On the outside of the campus, there will be eight parking spaces has Wesbrook Village.
To stay informed (e) all actuality about car2go, please follow @ car2goVancouver on Twitter or become a fan of www.facebook.com/car2go.Vancouver
--------------------------------------------------
About car2go
100% subsidiary of Daimler North America Corporation, car2go NA, LLC, offers an innovative mobility solution that redefines individual transport in urban areas was strong, and, thanks to a network of hundreds of smart fortwo vehicles ecological proposed Rent. This network is an innovative mode of transport "on demand" just complement existing transit alternatives, which do not necessarily serve the itinerary of everyone.
The car2go carsharing service is currently operational in nine cities: Austin (Texas), Vancouver (British Columbia), San Diego (California), Ulm (Germany), Hamburg (Germany), Amsterdam (Netherlands), Vienna ( Austria), Lyon (France) and Dusseldorf (Germany). In November 2011, car2go has launched the largest carsharing network of electric vehicles in the world in the cities of San Diego (California) and Amsterdam (Netherlands), deploying 300 smart fortwo electric drive vehicles in each city car2go . In March 2012, the car2go carsharing service will launch in the U.S. in the cities of Washington, DC, and Portland, Oregon; and in April 2012, it will debut in Berlin, Germany. car2go now has more than 70,000 members around the world.
The innovative car2go rating and the emphasis that car sharing service on environmental protection have already earned him to be welcomed to the international scale. In February 2012, car2go was named "Best carsharing 2011" by the Vancouver Courier. In September 2010, car2go was awarded the 2010 Business rates in the region of Greater Austin ("2010 Greater Austin Business Award") by the Austin Chamber of Commerce for its positive impact on urban traffic. The same month, car2go received the "Clean Tech Media Award" in the "Mobility" category Berlin. In May 2010, the Environmental Protection Agency (EPA) of the United States as it has car2go attributed to the prestigious 2010 Excellence for Clean Air ("2010 Clean Air Excellence Award"). More information on car2go is available at www.car2go.com and www.media.daimler.com/ms/car2go/e.