First contacts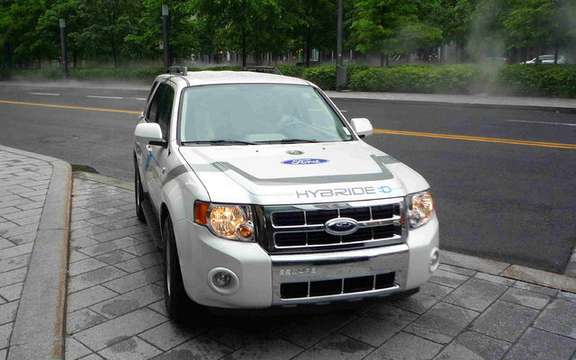 Ford Escape Hybrid, tests in 2009, markets in 2012
- Hydro-Quebec takes possession of the first Ford Escape PHEV to Canada
- The collaboration between Ford and the utility companies of electricity is essential to advance the commercialization of electric vehicles
- The consumption of a Ford Escape PHEV lithium-ion battery is as low as 2 L / 100 km (120 miles / gallon)
Hydro-Quebec and Ford Motor Company announced today that Hydro-Quebec participation in the North American test program and evaluation of hybrid vehicle batteries.
Ford undertook in collaboration with the Electric Power Research Institute (EPRI) a test program of the Ford Escape PHEV which will last three years and aims to develop and evaluate technical approaches for integrating plug-in hybrid vehicles to electrical network.
EPRI has recruited nine companies of electricity utilities in North America to test the vehicles and collect data on battery technology, vehicle systems, consumer behavior and infrastructure network. Ford has provided a total of 21 vehicles for road tests. Hydro-Quebec is the only company of electricity utilities of Canada PHEV.
The electrification of vehicles is a wise environmental choice that will contribute to the fight against climate change. In addition, it would be very advantageous for consumers to "fill" in the plug rather than the pump. For an average car doing 18,000 miles a year, it would cost $ 244 per year rather than $ 1,383 at the present time, 6 times cheaper.
"We need to accelerate the replacement of oil by electricity for individual and collective transport, stated Thierry Vandal, president and chief executive officer of Hydro-Quebec. In Quebec, 42% of emissions of greenhouse gas emissions come from the transportation sector. Emission reductions of greenhouse gas emissions that result from the electrification of transportation in Quebec, where 98% of electricity is generated from renewable sources, would be considerable. Hydro-Quebec will provide leadership in this area. "
One million electric vehicles while 25% of the current fleet of light vehicles in Quebec consume about 3 TWh, the equivalent of the Eastmain-1 power plant.
The electrification of vehicles generating a lot of interest in the United States and Canada. Plug-in hybrid vehicles are an element of sustainable development plans of Ford, ranging from development of transmissions and gasoline engines to the development of electric vehicles is battery.
"This rechargeable delivery of a Ford Escape Hybrid represents a new stage of our development program as well as our understanding of the technology and its role in the overall energetics context, stated Nancy Gioia, director of sustainable mobility technologies and Ford hybrid vehicle programs. We believe that collaboration with utility companies for electricity to explore new business models and new standards and infrastructure, even as vehicle-network connectivity, will be essential to the future progress of the marketing of vehicles electric. "
"This project allows us to move forward. The Quebec, a leader in renewable energy, will also do its part to accelerate the development of electric vehicles, stated the Minister of Natural Resources and Wildlife, Claude Bechard. We are to the forefront in the development of materials to improve battery performance and in the field of engine tests with the electric motor TM4, a subsidiary of Hydro-Quebec on the Indica EV car that will soon place in Norway. The arrival of electric vehicles is at our doors, which has an advanced I firmly believe! "Stated the Minister.
"The collaboration between Hydro-Quebec, Ford and EPRI represents a valuable contribution to the efforts to develop plug-in hybrid vehicles with a true business potential, says Arshad Mansoor, vice president, transportation, distribution and consumption EPRI. Continuing our trials in Canada, we will collect the necessary data has an easy integration in distribution network while providing a pleasant driving experience. "
The Ford Escape Plug-In Hybrid, a test vehicle has battery voltage lithium-ion high, uses common household current (120 volts) for charging the battery. It takes six to eight hours to recharge the battery.
When driving the Ford Escape PHEV 48 km (30 miles) after a full load, its consumption can drop up to 2 l/100 km (120 miles / gallon) in urban areas. The maximum distance the vehicle can travel is not limited by the available charge in the lithium-ion battery, because once it exhausted, he continues to run as a standard Ford Escape Hybrid has low power consumption. The driver does not notice the transition, which is done automatically.
View the gallery