Couche Tard introduce an economical gasoline in America
Gasoline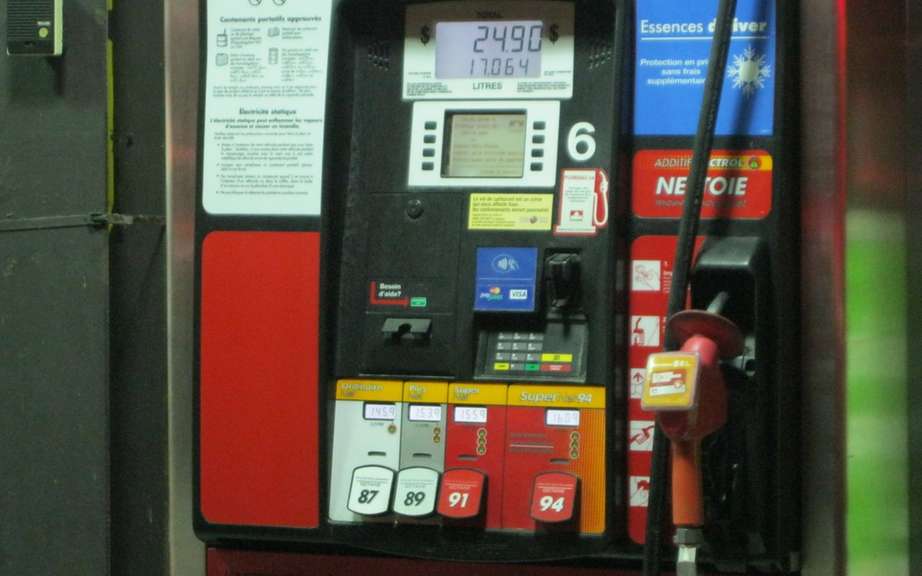 The CAA Quebec paints a grim picture of the price of gasoline in 2013
Alimentation Couche-Tard (TSX: ATD.B) said draw much of Europe since its acquisition of Statoil Fuel & Retail, in 2012, developed to introduce in North America a type of fuel that would allow economies.
In addition to its annual meeting of shareholders on Wednesday, quebecois retailer has indicated that its fuel additives "Miles", which will be extended in Europe in 2014, could result in savings for motorists two to three percent.
This project was launched in Sweden in 2012 and the President and CEO of Couche-Tard, Alain Bouchard, admits to having had a surprise when his company bought Statoil Fuel & Retail, the same year.
"This is a product that has amazed us, he says. Ca was already five years they worked on the project. A large profits with the acquisition of Statoil Fuel & Retail is to have the expertise level of the essence. "
Mr. Bouchard was stingy with details in regards to the characteristics of "Miles", but explained that this fuel will be available for both vehicles that run on diesel gasoline only, should be available in 2014 in European countries or Statoil Fuel & Retail is present.
According to Couche-Tard, 65 per cent of its gross margins from fuel in Europe, in contrast to 30 percent in North America.
This is another reason that explains why the expansion in North America could be envisaged only after 2014. Moreover, the method has not been patented on the continent, compared to Europe.
The CEO of Couche-Tard indicates that the liter of fuel "Miles" will not be more expensive on the Old Continent, even if it is more expensive to refine, especially because of the additives.
"The goal is to win market shares," recalled Mr. Bouchard.
The company also wants to build on what was done in the convenience stores of Statoil Fuel & Retail in Europe to improve its product offering "ready-to-eat" in Quebec and in the rest of America North.
"It is very late here in Quebec compared to what we do in North America," he says Bouchard, who has not wanted to unveil more on this issue.
Ultimately the Quebec company which, dated June 21, 6198 were convenience stores in North America, would like the "ready-to-eat" represents 40 percent of its product, compared to between 20 and 25 percent currently.
During the next year, Couche-Tard desire to focus on the integration of its activities with those of Statoil Fuel & Retail, reduce its costs and make other acquisitions in the United States. The company plans to buy some 200 institutions in more built about 70 branches.
Mr. Bouchard also calls "incredible" the last year, highlighting the purchase of Statoil Fuel & Retail for U.S. $ 3.6 billion, which represents almost 35 percent of the company.
"It has prevented me from sleeping for a few nights, has entrusted the CEO of Couche-Tard. This was our biggest acquisition."
Mr. Bouchard recalled that Couche-Tard had experienced a record year, particularly with revenues of $ 35.5 billion, up $ 12.6 billion. As for profits, they have increased for the fifth consecutive year,
was $ 572.8 million in 2013. This is an increase of 25.2 percent compared to the previous year.
The annual meeting of shareholders of Couche-Tard is unwound with the presence of activists outside the CSN, who denounced the way of doing business with respect to labor relations.
They recalled that two of the eight unionized establishments and held by Couche-Tard had been closed by the company, according to them, slowing the negotiations for the conclusion of a collective agreement in other convenience stores.
In addition, the shareholders of the company have rejected a proposal regard to the realization of a study on the costs and potential profits of the unionization of Couche-Tard stores for the retailer.
At the Toronto Stock Exchange under the Couche-Tard has cloture $ 63.77, down $ 1.56, or 2.39 percent.
by Julien Arsenault